MLA pay cut: reaction to Karen Bradley's announcement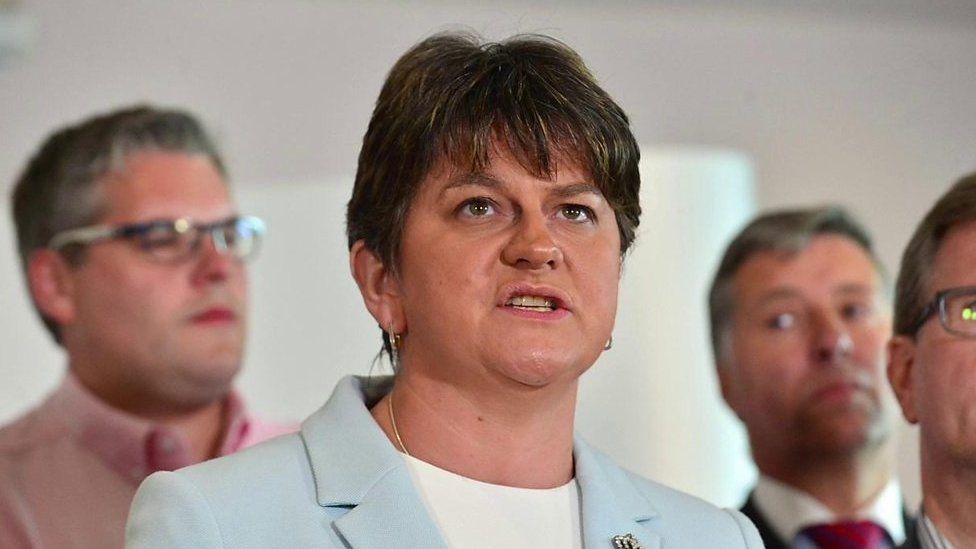 Politicians have largely welcomed Karen Bradley's announcement.
She also ruled out calling an election and is to bring forward legislation to allow civil servants to make decisions in the absence of devolution.
Here are some reactions to the announcement:
Sinn Féin deputy leader Michelle O'Neill
"Faced with the prospect of a court-ordered election, Karen Bradley has now moved to suspend her powers to call an election as set out in the legislation. That is a retrograde step.
"Clearly, the British government's reliance on the DUP remains a central problem and if any process around restoring the institutions is to be credible, Karen Bradley must begin prioritising the rights of citizens over Tory Party self-interest.
"The reduction in MLA pay should have been introduced months ago."
"The proposal to reduce the pay for MLAs is a sensible step as we are not able to fulfil our full role as legislators.
"We would prefer to have a fully functioning local Executive where decisions about our schools, roads and hospitals are being made in Northern Ireland.
"Sinn Féin is the roadblock to an Executive. It is the only major party boycotting the Executive. All other parties would elect ministers today without preconditions.
"We stand ready to form an Executive today and enter an Assembly with nothing but our mandate."
"For months the Ulster Unionist Party has been urging the secretary of state to take action.
"However, this looks like another holding statement from Karen Bradley.
"It's only a sticking plaster on a huge political mess in which Northern Ireland finds itself, and the blame for that lies squarely with Sinn Féin and the DUP.
"What we need is a fully functioning Assembly and Executive where locally elected MLAs can hold local ministers to account and get to grips with the crisis in the health service, in education and take the whole range of decisions that have been put 'on ice' in the absence of executive ministers."
The chief executives of Retail NI, Hospitality Ulster and Manufacturing NI
"We welcome the proposed legislation to allow government departments to make more decisions and we hope that the big infrastructure projects can now move forward.
"In our New Deal for Northern Ireland that we launched at parliament, we called for rapid decisions to be made to support our economy in these challenging times."
Alliance Party leader Naomi Long
"The public anger at the political drift here is growing, so if the secretary of state is confident that what she has outlined will be the catalyst to get things moving again, particularly with respect to key decisions that are required, then that is to be welcomed.
"There is up to £2bn of investment being held up due to the inability to take strategic decisions, and it is imperative that the secretary of state's proposals unblock that as a matter of urgency.
"It was also clear on Monday when, in the absence of any kind of leadership from the SOS and her team, representatives of all parties responded to my invite to get around the table and begin the process of finding lasting solutions to the many issues that still divide us, that there was a clear need for the two governments to live up to their respective responsibilities."
SDLP leader Colum Eastwood
"This political vacuum that we have found ourselves in has already gone on for far too long.
"The truth remains, without a functioning Assembly, MLAs are not fulfilling the full job that they were elected to do.
"The SDLP has been clear time and time again, we are ready and willing to engage. We did not create this political vacuum and we have absolutely no desire to remain in it."
Margaret McGuickan from Survivors and Victims of Institutional Abuse
"Disappointed, heartbroken.
"I thought today was going to be the day she would do something for us.
"Left us out and didn't even mention us. I'm nearly in tears.
"Ignored, rejected and dismissed."
"At last the secretary of state is moving to cut MLA salaries. Good - about time.
"However, by continuing to duck her responsibility to govern, by planning to legitimise decision-making by civil servants, demonstrates, again, a lack of mettle.
"It is the appointment of ministers accountable to parliament that is required, not the poor substitute of empowering unelected civil servants."
Chief executive of NI Chamber of Commerce and Industry Ann McGregor
"NI Chamber has been asking the secretary of state to put in place special legislative measures to allow civil servants to take important decisions for some time now.
"Therefore the announcement is warmly welcomed and should allow civil servants to proceed with vital decisions which are to the benefit of everyone in Northern Ireland."
Green Party leader Steven Agnew
"This is a political impasse that the two main parties appear content to stay stuck in and I don't think a reduction in MLAs salary will push those parties closer to an agreement.
"However, I hope it will satisfy the nurses, teachers, drivers and all hard working people across Northern Ireland who have expressed understandable anger at a lack of political progress from full salaried MLAs."
Irish Minister for Foreign Affairs and Trade Simon Coveney
"The announcement further underlines the seriousness of the absence of the devolved institutions in Northern Ireland, and the urgent requirement for all with responsibilities to do everything in their power to get them operating again.
"I will be engaging further with the secretary of state for Northern Ireland on how both Governments can most effectively support that urgent work in the period immediately ahead."