NI council elections: First openly-gay DUP candidate elected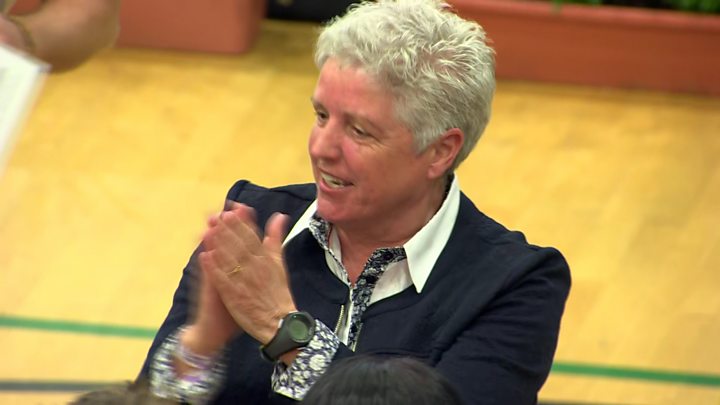 The election of the DUP's first openly gay politician was welcomed by one of the party's senior politicians.
Alison Bennington was elected to Antrim and Newtownabbey.
Belfast East MP Gavin Robinson said it was a "good news story", despite assembly member Jim Wells claiming members were "shocked by the decision" to let her run.
Results so far...
| Party | Councillors |
| --- | --- |
| Alliance Party | 53 |
| DUP | 122 |
| SDLP | 59 |
| Sinn Féin | 105 |
| UUP | 75 |
| Others | 48 |
Elsewhere there were some surprising gains for Alliance and some smaller parties.
Sinn Féin had a mixed set of results on the first day of counting, while the Ulster Unionist Party (UUP) lost a number of seats.
There are 11 councils in Northern Ireland and a total of 462 seats up for grabs.
'A watershed change' for DUP
Alison Bennington has been elected as a councillor for the party which has consistently opposed the legalisation of same-sex marriage. It remains against the law in Northern Ireland.
The DUP's founder and leader for almost 40 years, Ian Paisley, was also the founder of the Free Presbyterian Church of Ulster, a fundamentalist and evangelical denomination which many DUP politicians are still associated with.
DUP leader Arlene Foster said Ms Bennington's election did not necessarily mean a shift in the party's policy.
Jim Wells, who has been one of the party's most vocal opponents of same-sex marriage, said: "This marks a watershed change in DUP party policy and none of the members were consulted about it.
"Many thousands of people in Northern Ireland are depending on the DUP to hold the line on these moral issues.
"They feel very let down and very concerned about what has happened."
But DUP MP for East Belfast, Gavin Robinson, said: "If you believe in our party's principles, if you stand for our values, if you are prepared to go forward and seek selection and you are selected and elected by the people - then get on and do the job.
"We're not a theocracy, we're a political party."
Former DUP special advisor Timothy Cairns said he felt he spoke for many in the party who were "quite angry" at Mr Well's comments.
He said: "Most right-thinking people are disgusted at Jim Well's comments.
"It is time for the leadership to take action. It is beyond time.
"What Jim has said this evening about a fellow colleague is wrong".
Alliance and smaller parties make gains
There were a number of gains for the Alliance Party and smaller parties including the Greens and People Before Profit.
Alliance won three seats in the Ormiston district electoral area (DEA) in Belfast and took a seat from Sinn Féin in Titanic, securing a second councillor in that DEA.
The party also topped the poll in every DEA in Lisburn and Castlereagh - with all nine candidates being elected - and won seats outside its traditional greater Belfast heartlands with victories in Coleraine, Lurgan and Faughan.
The Green Party's Áine Groogan topped the poll in the Botanic DEA and has become her party's first councillor in that area.
Ms Groogan, who was a first-time candidate in the local government elections, told BBC News NI her party had made gains because voters were "fed up with old-style politics".
Elsewhere in Belfast another smaller party, People Before Profit took a seat from Sinn Féin in Collin and also gained a councillor in Oldpark.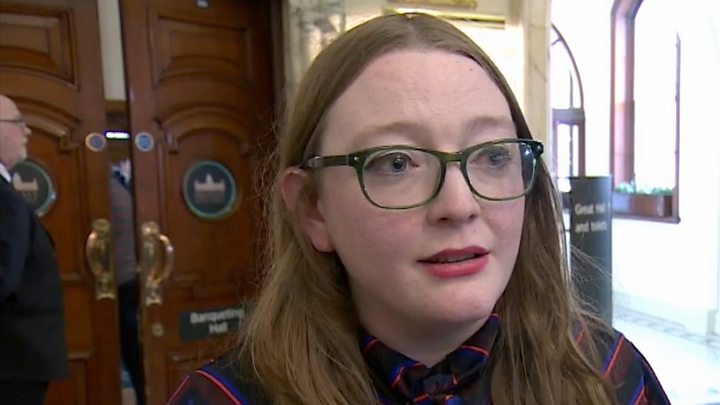 However the Progressive Unionist Party lost a seat as Julie-Anne Corr-Johnston was defeated in Oldpark.
A slow start for Sinn Féin
As well as losing out to People Before Profit in Collin and Alliance in Titanic, Sinn Féin's former Derry and Strabane mayor Maolíosa McHugh lost his seat.
Sinn Féin assembly member Raymond McCartney said his party was set to lose "a couple of seats" on that council.
Mr McCartney said the party fought a strong campaign but that the absence of devolved government at Stormont was an issue on the doorsteps.
He said it would inform Sinn Féin's position going into talks aimed at restoring devolution which are due to start on Tuesday.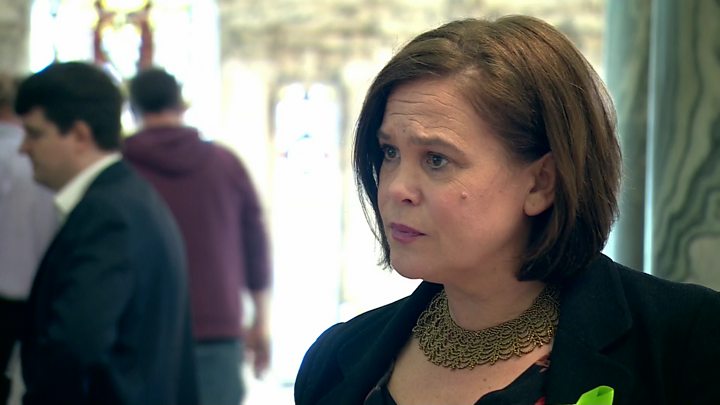 Party president Mary Lou McDonald added that the election had demonstrated to her that the political deadlock was "unacceptable".
The SDLP's Mary Durkan has been elected in the Foyleside District of Derry and Strabane Council after her first foray into politics. The barrister is the sister of assembly member Mark H Durkan.
SDLP leader Colum Eastwood said his party had done "very, very well" in Derry and Strabane and was pleased with the performance overall.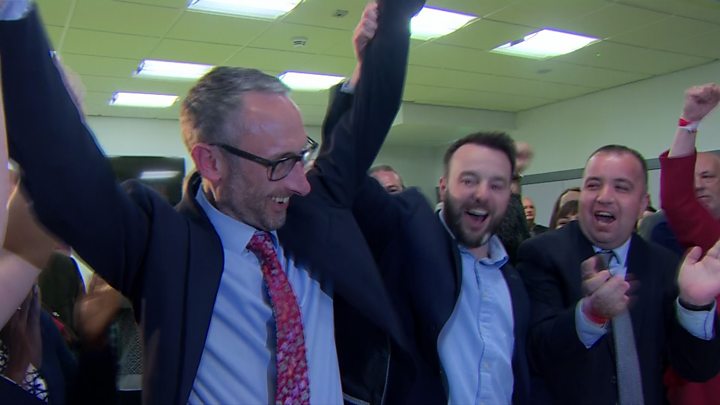 He said: "We are very happy, we have had some difficult years but I think this is a positive day for the party.
"What we are seeing is that new candidates with good campaigns and hard work on the ground are actually winning and winning well."
A difficult day for the UUP
The UUP lost a number of seats on Friday, including in Ormiston, where Peter Johnston lost out and in Botanic.
So far the party's first preference vote share is down by 2% compared to the last council election in 2014, but this could improve after more results are declared on Saturday.
The UUP enjoyed a better day in Lisburn and Castlereagh, where their first preference vote share rose by 1.9%.
They also had a narrow victory in Cusher DEA in Armagh, Banbridge and Craigavon where Gordon Kennedy beat DUP candidate Quincey Dougan to the last seat by 1.84 votes.
---
Gambles haven't paid off
By Jayne McCormack, BBC News NI Political Reporter
Where else would you find such electoral excitement on a Friday night?
There have been gains for the smaller parties including Alliance, the Greens and People Before Profit at the expense of the DUP and Sinn Féin.
The two biggest parties say their vote has held up - and even improved - in some of their traditional stronghold areas.
But there's no denying both have taken gambles that haven't paid off, running more candidates in some areas in a bid to increase their presence only for it not to work out.
The SDLP are pleased with their performance in some areas, but across the board the UUP vote looks much poorer than the strong result they polled in 2014.
As ever, transfers are key for those final nail-biter seats in each area. As one candidate put it to me: "Every transfer matters, it's like Game of Thrones!"
---
'Giving back to the community'
In Mid-Ulster, Kyle Black, the son of prison officer David Black who was murdered by dissident republicans, was elected in Carntogher.
He said: "Out of absolutely devastating circumstance that will impact out lives forever, I wanted to try and do something positive - to give back to the community."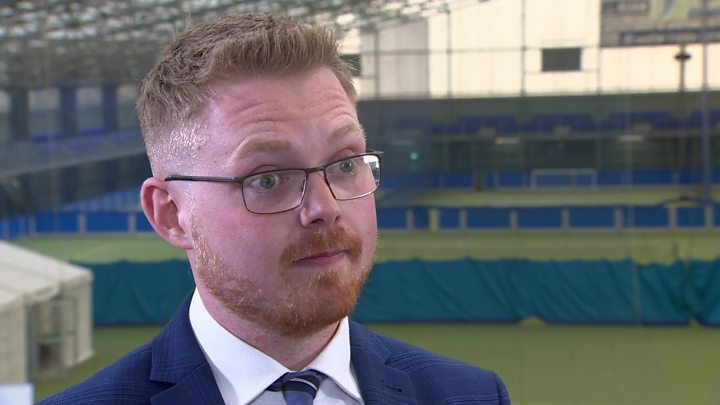 Hours of counting ahead
It will be late on Saturday before the full results are confirmed.
As of Friday night, turnout was recorded as 52%, but this is not the final figure.
Thursday's good weather appears to have boosted voter numbers, but there is a wide variation across the different District Electoral Areas (DEAs).
In County Fermanagh, the turnout was almost 72% in the Erne East DEA.
However, in east Belfast, just over 42% of eligible voters cast their ballot in the Titanic DEA.
It has been two decades since a council election was held on its own, and not in conjunction with another poll.
The official turnout in 2014's council election, which was held alongside the European election, was 51%, and the DUP secured the highest number of seats.
BBC News NI will cover the latest election results and analysis on our website, mobile app and on Facebook and Twitter throughout the weekend.
A dedicated live page will keep you up to date as the results are announced.
There will also be special election programmes on BBC Radio Ulster from 10:00 on Saturday.
Television coverage will be on BBC Two Northern Ireland at 10:00 on Saturday, with an hour-long Sunday Politics programme on the same channel at 11:00 on Sunday.