European elections: Polls close in Northern Ireland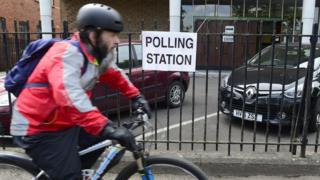 Polls have now closed in Northern Ireland in the 2019 European Parliament election.
Eleven candidates were competing to become one of the region's three members of the European Parliament (MEPs) in Brussels and Strasbourg.
Polling stations opened at 07:00 BST and closed at 22:00 in the proportional representation election.
A total of 1,278,951 people were eligible to vote in Northern Ireland.
On Thursday night, police were attacked with petrol bombs while at a security alert close to a polling station on Moss Road in Londonderry.
Army bomb experts carried out a controlled explosion on a suspect object outside St Paul's Primary School.
Police made three arrests and recovered a number of other petrol bombs.
After the polls closed, the 1,463 ballot boxes used in the election were being taken to the counting centre at the Meadowbank Sports Arena in Magherafelt, County Londonderry, where the votes will be verified on Friday.
The election results cannot be announced until all of the EU nations have voted over the next three days.
Voting in some of the 27 other EU countries does not end until 22:00 on Sunday.
While the counting of votes in the rest of the UK will begin on Sunday night, counting does not take place on Sundays in Northern Ireland.
That long-standing arrangement is due to the traditional observance by the region's Christian population of Sunday - the Sabbath - as a day of rest.
Counting to determine the results in Northern Ireland will begin at 08:00 on Monday.
The Electoral Office for Northern Ireland has said that it has been "accepted practice" that votes are not counted on Sundays.
But it has asked the Electoral Commission to ask voters in a survey after the European election whether that policy should remain in place.
How does the voting system work in Northern Ireland?
The election, which happens every five years, used the single transferable vote (STV) system, in which voters rank candidates by numerical preference.
Voters marked their ballot with 1, 2, 3 and so on and indicated as many or as few preferences as they want.
Candidates are then elected according to the share of the vote they receive.
How can I follow the results?
The first results are expected on Monday.
BBC News NI will cover the latest results and analysis on its website, mobile app and on Facebook and Twitter throughout Monday.
Television coverage will be on BBC One Northern Ireland at 15:45 on Monday and on BBC Two Northern Ireland at 20:00.
There will also be coverage on BBC Radio Ulster's Talkback from 12:00 on Monday and on Evening Extra at 17:00.
Who is standing for election in Northern Ireland?
Alliance Party - Naomi Long
Conservative - Amandeep Bhogal
Democratic Unionist Party - Diane Dodds
Green Party - Clare Bailey
Sinn Féin - Martina Anderson
Social Democratic and Labour Party - Colum Eastwood
Traditional Unionist Voice - Jim Allister
Ulster Unionist Party - Danny Kennedy
Independent - Neil McCann
Independent - Jane Morrice