Hoon, Byers and Caborn rebuked over lobbying breaches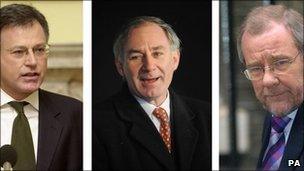 Former Labour ministers Geoff Hoon, Stephen Byers and Richard Caborn have been rebuked for breaching lobbying rules.
The committee recommends Mr Hoon's pass be suspended for five years for a "particularly serious breach".
It recommends suspending Mr Byers' pass for two years and Mr Caborn's for six months.
However the same committee has dismissed complaints against former MPs Patricia Hewitt, Adam Ingram and Sir John Butterfill.
The Commons investigation related to interviews given by the six former MPs - all of whom stood down at the election - to a Sunday Times journalist posing as a representative of a fictitious lobbying company and inquiring about services they would be able to provide after leaving Parliament.
Sections of the interviews were later broadcast on the Channel 4 show Dispatches, which led to complaints against the MPs concerned.
The inquiry, by the Standards Commissioner, found that former defence secretary Mr Hoon breached the MPs' code of conduct by claiming that he had, or could get access to, confidential information about the government's strategic defence review that would be of benefit to business clients.
"Mr Hoon's conduct brought the House of Commons and its members generally into disrepute," the Standards and Privileges Committee, which has the power to sanction MPs for breaches of conduct, concluded.
In media interviews in March, Mr Hoon acknowledged he got it "wrong" in giving the impression he wanted to profit from his government contacts and "should have known better". The committee has said the MP should now apologise to the House of Commons in writing.
Former Trade and Industry Secretary Mr Byers was heavily criticised by MPs from all parties after telling the undercover reporters that he was "like a cab for hire" and would ask for up £5,000 a day to provide advisory services to companies.
The standards committee found the cab-for-hire remarks were "ill-judged" but did not themselves breach the code while Mr Byers had properly registered the payments he received for doing work outside Parliament.
However, it found Mr Byers breached the MPs' code by claiming that he had helped amend legislation and influence government thinking on behalf of companies like Tesco and National Express.
"By telling these untruths, Mr Byers brought the House of Commons and its members generally into disrepute," it concluded.
Mr Byers has accepted the findings and offered his "unreserved" apologies to Parliament.
"I could try and put together all sorts of excuses as to how I came to make the statements I did but I must accept that I simply should not have spoken in such terms," he said in a letter to the committee.
"I deeply regret that my statements caused damage to the reputation of Parliament."
The committee found that Mr Caborn - who spoke to the reporters about the ways in which he could influence ministers - did breach the rules but these infractions were less serious and "more the result of careless oversight than deliberate intention".
It said Mr Caborn's suggestion that he might receive a peerage "reflected poorly on him" and that he had not declared a relevant interest after sponsoring three events in Parliament on behalf of outside organisations.
However, the committee dismissed complaints against former ministers Patricia Hewitt and Adam Ingram arising from the same investigation.
It said there was "no suggestion" Ms Hewitt engaged in any lobbying of ministers and she had taken the necessary steps to ensure her work for a private equity firm was within the rules. However, it said she - like the other individuals - was "unwise" to agree to the meeting with the company.
In Mr Ingram's case, it found his statements about contacts with ministers and being involved in a defence consortium were all made in the context of his career after leaving Parliament and were within the rules.
The committee has also dismissed a complaint against the former Tory MP Sir John Butterfill, saying it accepted he did not introduce clients to ministers and although he had acted as a consultant on government contracts while an MP he was not paid for the work.
Related Internet Links
The BBC is not responsible for the content of external sites.