Labour contenders: Ed Balls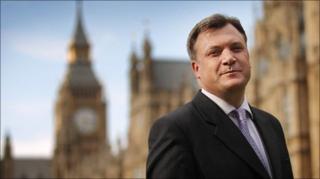 Is Ed Balls the most misunderstood of the five contenders vying to be the next Labour leader?
That is certainly what his friends and supporters would have you believe.
The shadow schools secretary is routinely portrayed in the media as a bully and a smear-merchant, a man who epitomises everything that was wrong with Gordon Brown's leadership of the Labour Party and the country.
Supporters, on the other hand, describe a witty, self-deprecating family man.
His combative, even abrasive, style is not to everyone's taste, they concede, but they claim that he is the only one of the five leadership contenders with sufficient fire in his belly to really take the fight to the Lib Dem/Conservative coalition government.
Furthermore, they argue, his grasp of economics, honed by more than a decade as Gordon Brown's chief economic adviser, makes him the candidate best-equipped to take on the coalition partners over the scale and speed of spending cuts - and, therefore, the best person to lead Labour into the next election.
Frontline
Mr Balls has never been seen as a great communicator, but he has overcome a stammer and has worked hard on his presentational skills in recent years.
But perhaps the biggest hurdle he faces in this leadership contest is establishing his own political identity, separate from that of his longstanding mentor and patron.
Ed Balls certainly owes his political career to Gordon Brown, who talent spotted him when he was a young financial journalist in the early 1990s.
By the time he was 30, he was effectively second in command at the Treasury, despite being an unelected official, helping to mastermind Mr Brown's biggest policy coups such as the handing of the control of interest rates to the Bank of England and the five economic tests that kept Britain out of the euro.
He was also on the frontline of the war between Mr Brown's supporters and Tony Blair's Downing Street, if accounts of the period by Lord Mandelson and others are to be believed.
It was during this period that he gained a reputation - always dismissed as malicious gossip - for briefing against Labour colleagues seen as enemies of Mr Brown.
He has rejected Lord Mandelson's claim he was part of a Brownite "insurgency" against Mr Blair's premiership, arguing that there was a "creative tension" rather than warfare between the two camps.
When Gordon Brown finally entered Number 10 in 2007, Mr Balls, who had become the MP for Morley and Outwood two years earlier, was handed the key role of education secretary, although there seemed little doubt that it would be merely a stepping stone to the much bigger prize of the chancellorship.
Mr Balls did not see eye-to-eye with Alistair Darling over the economy but, again according to Lord Mandelson, a weakened Mr Brown felt unable to install his closest political ally at the Treasury.
Combative
No surprise, perhaps, that Mr Balls was the first of the leadership contenders to break ranks with the economic policy on which Labour fought the 2010 general election.
He has said Mr Darling was wrong to commit the party to halving Britain's record budget deficit in four years, telling BBC News that although he had toed the party line in government privately he "didn't think it could have been done".
The son of a zoology professor, Ed Balls was educated at a private all-boys school, Nottingham High, and Oxford University, where he gained a first class honours degree, before attending Harvard, in the US, as a Kennedy scholar.
It was by no means certain that Mr Balls would enter the race to succeed Mr Brown at the head of the Labour Party - not least because his wife, shadow work and pensions secretary Yvette Cooper, was considering her own leadership bid.
In the end Ms Cooper, with whom he has three children, and who represents a neighbouring constituency in West Yorkshire, decided not to stand.
He saw off a strong Conservative challenge in his own constituency at this year's general election by a whisker, later claiming, in a BBC interview, that this proved he was both a "winner" and a "team player" - and that he was in touch with the concerns of ordinary voters, a key theme of his campaign.
Iraq 'mistake'
Commenting on Gordon Brown's disastrous encounter with Labour voter Gillian Duffy during the general election campaign, he told The Guardian: "It is so frustrating. I have spoken to thousands of Mrs Duffys over the last 18 months. What she was saying I have heard so many times. If I'd been there, I would have known she was Labour."
He has also broken a New Labour taboo by urging the party to rethink its policy on immigration within the EU - and, like Diane Abbott and Ed Miliband, has expressed regret at the Iraq war, saying: "It was a mistake."
He has been scathing about electoral reform, branding the coalition's plan to cut the number of MPs and ensure constituencies contain the same number of voters as an attempt to "gerrymander" the system in favour of the Conservative Party.
After a hesitant start, he has also learned how to publicly criticise Mr Brown without it sounding like a personal attack.
When asked what he would have done differently to Mr Brown, the answers are invariably the abolition of the 10p tax band and the 2007 election that never was.
Despite starting as an outsider, he has mounted a disciplined and combative leadership campaign, aided by fellow Brown era refugees, ex cabinet office minister Tom Watson and union fixer Charlie Whelan.
He has also made the most of the difficulties of his Conservative opposite number at education, Michael Gove, who inadvertently provided him with a platform to savage the coalition government's cuts to the Building Schools for the Future programme.
However, by early July, he had gained the support of just six constituency Labour parties and was thought by most pundits to be in a battle with Andy Burnham and Diane Abbott for third place.
He will need to experience a major surge in support from MPs, party members and the trade unions if he is going to stand a chance of winning the contest in September, but he is sure to be fighting all the way to the bitter end.