Labour contenders: Andy Burnham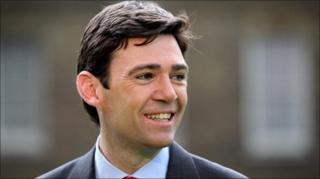 Despite holding one of the biggest jobs in government for two years, shadow health secretary Andy Burnham is probably the least well-known of the Labour leadership contenders.
The 40-year-old Liverpudlian has sought to make up for this by casting himself as most authentically Labour of the five candidates.
His background may be similar in many respects to that of the Miliband brothers and Ed Balls - Oxbridge, special adviser to Labour ministers, safe Labour seat, cabinet - but he has suggested that by virtue of his northern working class roots (his father was a telephone engineer) he has a more genuine connection with Labour's core support.
"People keep saying everyone's background's the same, but mine is different," he told Liverpool's Daily Post.
"I mean, there wasn't much privilege about going to a Merseyside comprehensive in the 1980s, I can assure you of that."
He has based his campaign in Manchester - to distance it from the Westminster chattering classes - and there has been more than a trace of the class warrior in his response to Lord Mandelson's memoirs, which laid bare the bitter infighting and rivalry at the heart of New Labour.
"Never again can the people's party be run in this way, with egotistical factions and their friends in the media meeting on the London dinner party circuit to plot each others' demise," he said.
It is no surprise, perhaps, that Mr Burnham's support base among MPs and local constituency parties is concentrated in the North of England. David Blunkett and Hazel Blears are among his fans.
And like Mr Blunkett, he wasted no time in rejecting the idea of a coalition with the Liberal Democrats in the days following the general election.
'Proud'
As Ed Balls and Ed Miliband were beginning what turned out to be abortive talks with the Lib Dems, Mr Burnham was publicly declaring his hostility to any deal, saying: "I think we have got to respect the results of the general election and we can't get away from the fact that Labour didn't win."
He began his leadership campaign by saying he would be "proud" to be seen as the candidate who would carry on where Gordon Brown and Tony Blair left off.
And he even defended the most controversial decision of the Blair years, to send British troops to war in Iraq.
"I don't back away from the original decision," he said. "I think it gave 20 or so million people in Iraq hope of a better life and you just cannot walk away from that truth."
But as the contest has developed he has become bolder about the failings of the government of which he was integral part.
He said Labour had been too "timid" over tax and has talked excitedly about his plan for a National Care Service, which he said the party should have fought harder for in government.
Summing up his position, in an interview with the BBC, he said Labour had become "dazzled by power, money, glamour and we didn't appear to be on the side of ordinary people" and took a veiled swipe at the Miliband brothers, whose father was a well-connected left wing academic, saying: "I've come from a very ordinary background myself, and have come in to politics not from a political family or the London chattering classes."
'Radicalised'
He has also continued to speak out about immigration - and the impact it has had on jobs and housing - long after the others abandoned it as a subject for debate.
A member of the Labour Party since he was 14, when he says he was "radicalised" by the miner's strike, Andy Burnham has been the MP for Leigh, in the North-West of England, since 2001.
In 2000, he married marketing executive Marie-France van Heel, who he had been dating since university. The couple have two sons and a daughter.
His other major passion in life is football - he is a lifelong Everton supporter. During his brief spell as culture secretary, he campaigned against the commercialisation of the game, and for fans to be given a greater say in the way their clubs are run.
Earlier in his career, as administrator to the government's football taskforce, he was credited with securing the agreement in which Premier League clubs agreed to give 5% of their TV revenues to the grass-roots development of young players.
He has even received an endorsement from Liverpool and England footballer Jamie Carragher.
It would be a major upset if Mr Burnham managed to come out on top when the votes are counted in the Labour leadership contest in September. He struggled to gain the necessary 33 nominations from MPs to get on to the ballot paper.
By mid-July, he was trailing the Miliband brothers in terms of backing from constituency Labour parties - with 15, but he was he ahead of Ms Abbott, with nine, and Mr Balls, with six.
The row over Lord Mandelson's memoir seems to have re-energised his campaign, as he made a direct connection between the Blair/Brown wars and the "loss of trust" among voters and Labour's rank-and-file.
"The losers were the party members who were demoralised by the disunity at the top of the party while they were flying the flag for Labour on doorsteps across the country.
"Party members are fed up to the back teeth with the arrogance of those who say and write what they like while telling members how it's going to be."
It remains to be seen whether Mr Burnham's man-of-the-people rhetoric strikes a chord with enough Labour members to make a difference come September.