Cabinet 'should have seen' full legal arguments on Iraq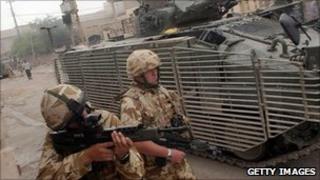 The cabinet should have seen all the arguments on the legality of the Iraq war, a former senior minister has said.
Lord Boateng said it would have been "helpful" to see then Attorney General Lord Goldsmith's full legal deliberations in the run-up to war.
Military action would be lawful, Lord Goldsmith ruled days before the invasion, but critics said his earlier reservations were not made clear.
But Lord Boateng said he believed the invasion was "right".
The Iraq inquiry is continuing to examine the background to the UK's participation in the 2003 invasion, the build-up to the war and its aftermath.
Many of the public hearings since November have been dominated by arguments over the legal basis for war.
'Best information'
Former minister Clare Short told the inquiry that discussion of Lord Goldsmith's final legal ruling that the war was lawful at a cabinet meeting on 17 March 2003 was cut short.
She claimed ministers had not been made aware of Lord Goldsmith's earlier concerns about the legality of military action without further UN authorisation and that they had been "misled" into believing the action was lawful.
Lord Goldsmith has said his views "evolved" in the months before the invasion - ultimately concluding that military action was justified by Iraq's failure to comply with existing UN disarmament resolutions - but denied doing so as a result of political pressure.
Asked about this, Lord Boateng - who was number two in the Treasury between 2002 and 2005 - said he would have liked to have had knowledge of the "full range of development of legal opinion" over that crucial period.
"On reflection it would have been helpful to have seen it," he said. "We ought to have been trusted with it."
However, he said this would not "necessarily" have led him to a different conclusion on the legality of the war or the decision to participate in the invasion which he said was the "right one".
Cabinet ministers acted on the basis of the "best information available to us at that time", he said, although he argued that had decision-making structures introduced in recent years been in place, such as the creation of a National Security Council, it would have helped "enrich" the process.
'Frank discussion'
Discussions of Iraq at cabinet were "full and frank", he said, suggesting that Ms Short - who resigned in protest two months after the war - had "opined at some length" about the issues involved and had not been muzzled.
"The prime minister was someone who would let discussion go in cabinet. He would not seek to curtail it."
Lord Boateng said he always believed military action should be a "last resort" and that it was not until all "other options had been exhausted", in the final days before the invasion, that this became a reality.
"It was not until then that I formed the firm view that it was inevitable," he said.
Separately, the inquiry published a newly declassified document showing that Treasury officials urged ministers to "step back" from taking a leading military role in post-invasion Iraq.
An internal paper - written by senior Treasury official John Dodds - warned that Britain could be "sucked into" costly wider responsibilities if it took on security duties after the overthrow of Saddam Hussein.
But the briefing note, sent to then Chancellor Gordon Brown, observed it was unlikely Prime Minister Tony Blair and other ministers would want to "walk away" from a leadership role in Iraq.