Clegg says UK will be 'more liberal nation' by 2015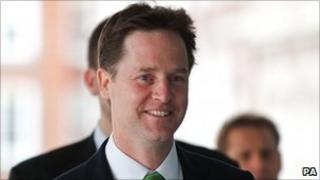 The UK will be a more "liberal nation" in five years time if the government fulfils its aims, Nick Clegg has said.
In a speech in London, the deputy prime minister said a "truly reforming" Parliament could change politics and the economy for the better by 2015.
His Conservative coalition partners shared his "reforming zeal", he argued.
The Lib Dem leader has come under fire for the coalition's spending cuts programme, which some of his own MPs fear will hit the poorest hardest.
On Friday, it was reported that the government may accelerate Labour plans to raise the age at which people are entitled to a free bus pass from 60 to 65.
Mr Clegg and his Lib Dem colleagues in government have come under pressure over the coalition's decision to raise VAT and cut new school buildings schemes as it seeks to reduce the deficit.
'Challenging times'
The deputy prime minister has admitted the decisions - which come ahead of an anticipated 25% average cut in department budgets next year - are difficult but necessary to sort out the public finances and enable long-term investment in public services.
"This Parliament will be challenging one," Mr Clegg told the think tank Demos.
"But it is also set to be a truly reforming parliament - a liberal parliament."
Mr Clegg has heralded decisions taken by the government to scrap ID cards, review counter-terrorism laws, take millions of low-paid people out of the tax system and hold a referendum of the voting system as signs of "liberalism in action".
"Now that the Liberal Democrats are in government, liberal ideas are being deployed directly," he said.
"And I can tell you that as deputy prime minister, my liberal instincts are stronger than ever."
'Shared agenda'
By the time of the next election - scheduled to be held on 7 May 2015 - Mr Clegg said he believed the UK would be a "more liberal nation".
"It is striking that our reforming zeal is matched by our Conservative coalition partners," he added.
"We are independent parties but working together on a shared agenda - a hugely positive development for British politics - in and of itself."
Mr Clegg said he was "under no illusion" about the extent of the challenges facing the country but he was confident of progress in all areas.
"By 2015, power will have been radically redistributed towards people. Our civil liberties will have been restored. Our broken political system will be repaired. Our economy will be balanced, green and growing.
"If the coalition government succeeds, by 2015 Britain will be a...nation of stronger citizens living in a fairer society."