Cameron meets BP boss to discuss US oil leak progress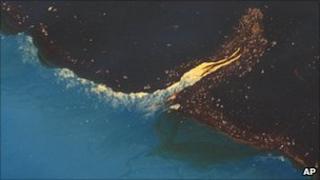 David Cameron has met the chairman of BP to discuss its progress in stemming the oil leak in the Gulf of Mexico.
The prime minister said he discussed efforts to cap the ruptured well after BP temporarily halted the flow of oil for the first time since April.
Ahead of his visit to the US next week, Mr Cameron also spoke with Carl-Henric Svanberg about compensation which the company will have to pay.
US President Barack Obama has insisted BP must pay for the "damage it caused".
Mr Cameron will make his first official visit to Washington as prime minister next week where efforts to contain the worst environmental disaster in US history are expected to be among the issues discussed.
'Progress made'
He has discussed the environmental and political fallout from the crisis with the US president on several occasions, including face-to-face at the recent G20 summit.
Mr Cameron told a public meeting in Luton that he had reiterated to Mr Svanberg BP's importance to both the British and US economies.
BP wanted to clean up the oil, which has been pouring out since the fatal explosion on the Deepwater Horizon Rig on 20 April, Mr Cameron told his audience.
While the company wanted to honour its commitment to pay compensation, Mr Cameron said it needed some reassurance that it would not be liable for any damage that it was not directly responsible for.
The company set aside a $20bn (£13bn) fund for compensation in June.
BP says it is encouraged by the first test data following the successful application of a test cap to the leaking well - which should stop the leak for 48 hours.
Speaking on Friday, President Obama said "progress had been made" in stemming the flow of oil but there was "still a big job to do" to make this permanent.