Legal concerns affected Iraq openness says ex-minister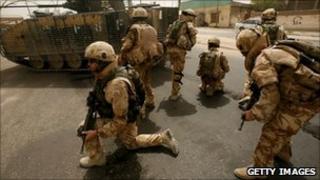 Legal concerns were partly to blame for the government not being open with the families of troops killed in Iraq, a former minister has said.
Adam Ingram told the Iraq inquiry lawyers advised caution to officials about their wording in case it was taken as an admission of liability.
He said it was "very wearing" for ministers to have to meet bereaved relatives who blamed them for deaths.
But he dismissed some reports of equipment shortages as "urban myths".
The inquiry is continuing to hear evidence from ministers in the last government as it examines the build up to the 2003 war and its aftermath.
When he appeared earlier this month, former defence secretary Bob Ainsworth admitted that families of UK service personnel killed in Iraq were let down by inadequate government support.
Mr Ingram, armed forces minister between 2001 and 2007, said there was a "mismatch between expectation and delivery" and partly blamed the mistakes on the "intensity of scrutiny" of the war.
He added: "There was another issue, of course, with families, and that was if you conceded failings, we're in a compensation culture as well, and therefore you could have a lawyer saying 'be careful in your wording here'."