Environment quangos to be cut, says Caroline Spelman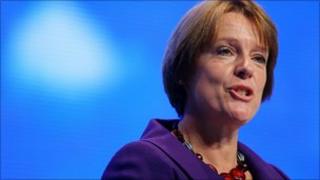 Environment quangos will be cut as part of coalition spending reductions, the environment secretary has indicated.
Caroline Spelman suggested the bodies would be axed to protect frontline services such as flood defences and animal health protection.
She also called her department, Defra, the "government's emergency service".
The Treasury is looking at detailed proposals for cutting up to 40% from some Whitehall budgets ahead of its spending review later this year.
'Rationalise'
Ms Spelman told Sky News that Defra had 87 quangos, with some set up decades ago to protect the environment or rural communities.
She said: "These things are now mainstream. They are part of what the department does as a matter of course, so we can make savings from amongst those quangos.
"It is quite possible to rationalise those and make savings without actually compromising... frontline services."
Ms Spelman said: "Whether it's flooding, whether it's an animal health outbreak, whether it's a radiological leak - God forbid, we don't want that - or a chemical spill, Defra is the government's emergency service.
"And that's a very strong reason to fight my corner on this issue with the Treasury, but equally to accept as a cabinet member with corporate responsibility that we have got to clean up the mess that Labour has just left.
"We have got to get to grips with the debt."
Negotiations
Ms Spelman also suggested plans to roll out broadband in rural areas would help mitigate high fuel costs.
She said: "If you have access to the internet you don't have to jump in your car so often to actually go and find the services or connect to the internet in the way that many people have to do."
Ministers in non-protected departments had until Friday to submit plans for how they would reduce spending by between 25 and 40%.
Only health and international aid have had their budgets protected, although defence and schools have also been told they will be shielded from the most painful effects.
The dossiers of potential cuts will form the basis of spending review negotiations between the Treasury and the departments.
Chancellor George Osborne will announce the results in October.