Helping Iraq wounded a 'real challenge' - UK officials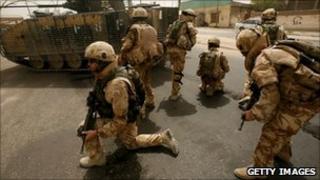 Helping British troops seriously wounded in Iraq was a "real challenge" but welfare support has improved as a result, defence officials have said.
Improved battlefield care saved more lives but more soldiers were left with multiple injuries, senior personnel officers told the Iraq inquiry.
Air Marshall David Pocock said the military had "learnt a lot [of lessons]" about helping casualties.
But he accepted support for bereaved families was often not good enough.
One hundred and seventy-nine British service personnel were killed during British operations in Iraq between 2003 and 2009.
The inquiry is continuing to hear evidence from senior defence, diplomatic and military officials as it examines the build up to the 2003 war and its aftermath.
On Monday, it heard from three of the most senior personnel officers who dealt with the issues of manning, recruitment, pay, allowances and support after tours of duty ended, between 2005 and 2008.
'Re-integration'
Air Marshall David Pocock, deputy chief of defence staff with responsibility for personnel between 2005 and 2007, said there were more "seriously injured" personnel than in any other recent conflict.
He said huge strides had been made in "re-integrating" severely wounded soldiers back into the armed forces and, if this was not possible, in helping them lead a "successful and fulfilling" life outside.
"We have learnt a lot, and improved our ability to look after them as they make the transition into civilian life."
In his evidence earlier this month, former defence secretary Bob Ainsworth said many bereaved families had suffered "horror stories" in their communication with the Ministry of Defence (MoD).
The anger many bereaved families felt with the MoD "reflected the lack of information" they received about the fate of their loved ones in the early stages of the UK's involvement, Air Marshall Pocock admitted.
A meeting with bereaved families in 2008 - organised by then armed forces minister Bob Ainsworth - was the first "official contact" that officials had had with families to discuss welfare support, he said.
Mark Mans, deputy adjutant general between 2005 and 2008, said he was "acutely aware" procedures for dealing with bereaved families were not perfect.
Asked about delays to inquests into deaths in service, Vice Admiral Peter Wilkinson - who took over from Air Marshall Pocock in 2007 - said the "intense" nature of combat operations in Iraq, which resulted in an ever growing number of fatalities, combined with the shortage of trained coroners staff led to a backlog.
Clearing this backlog was a "slow process", he said.
'Difficult to answer'
The three officials acknowledged that "money was always an issue" when it came to logistical support for troops in Iraq such as the availability of bandwidth for phone calls home and an "intermittent" free postal service.
The quality of forces' accommodation in the UK was also regarded as a real concern, Air Marshall Pocock said, with some people asking why "we have got better housing in Iraq than in the UK".
"That was a very difficult one to answer," he said.
Allegations about incidents of violence by British troops against Iraqi citizens had a "direct impact" on recruitment into the armed forces, Air Marshall Pocock said.
However, Lt Gen Mans stressed that such cases were isolated.
"Clearly it had an effect but it was not marked in my opinion," he said. "The vast majority of our service men and women behaved just as we would want them to do."