Cameron outlines details of youth service plan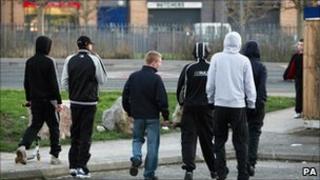 David Cameron has outlined details of the government's planned national citizen service, aimed at getting 16-year-olds to work in the community.
The prime minister has announced that about 10,000 teenagers will take part in pilot schemes next summer.
Intended to foster new skills, tasks include a social action or community project and an "outdoor challenge".
Shadow cabinet office minister Tessa Jowell said the plans were "modest and unambitious".
The prime minister launched plans for a voluntary national citizen service during the election campaign.
Ultimately it is the government's aim to give every 16 year old the opportunity to participate in an eight-week residential and home-based programme of events.
'Social responsibility'
This will include 10 days away from home, and teach them to be "socially responsible".
However, ministers have acknowledged the scope of next year's pilot schemes will hinge on the outcome of this autumn's spending review - when individual departments are set to face cuts of up to 25%.
Announcing the pilot plans at Downing Street on Thursday, Mr Cameron said they would help youngsters who felt their lives "lacked shape and direction".
"A kind of non-military national service, it is going to mix young people from different backgrounds in a way that does not happen now," he said.
"It is going to teach them what it means to be socially responsible. Above all, it is going to inspire a generation of young people to appreciate what they can achieve and how they can be part of the 'big society'."
'Limited impact'
But Ms Jowell said the "over-hyped announcement" was "modest" compared to "Labour's proud legacy of 'V'", a national volunteering programme which she said created nearly a million opportunities for young people to get involved.
"No-one will disagree about the need for constructive activity for young people.
"The best way for the coalition to express their support for the civic development of young people would be to build on that programme of substance rather than announce another eye-catching initiative that has limited impact beyond its headline," she said.
In a speech on Monday, Mr Cameron described the big society as his "great passion" and sought to explain how more emphasis on volunteering, social action and community involvement in public services could transform the relationship between the state and individuals.
Reacting to the prime minister's announcement, Dame Elisabeth Hoodless, of volunteering charity CSV, said: "Young volunteers report increased confidence, self-esteem and pride in doing something meaningful and purposeful in the community."
Labour has said the government is asking the voluntary sector to plug the gap left by what it argues are unnecessarily severe cuts in public spending.
During the election, Labour said the national citizen service was not new and merely aped what it was already doing.