David Cameron focuses on foreign trade policy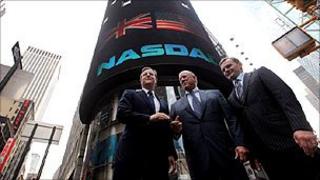 David Cameron has promised to transform British foreign policy so that it is focused primarily on promoting UK businesses abroad.
Speaking in New York on the last day of his trip to the US, the prime minister said he wanted diplomats to use every opportunity to win orders for UK firms.
He announced that he was appointing a civil servant with expertise in business to head the Foreign Office.
The department would also recruit a commercial director, Mr Cameron said.
'Open for business'
The prime minister was speaking as he met financial and business leaders in the US.
The new permanent secretary at the Foreign Office will be Simon Fraser, who has been at the Department for Business since May 2009.
Mr Cameron described him as "Britain's leading expert on trade in the civil service".
The prime minister told reporters: "I want to refashion British foreign policy, the Foreign Office, to make us much more focused on the commercial aspects... making sure we are demonstrating Britain is open for business.
"I think it is a big opportunity. As we come out of recession and into recovery we have got to pay our way in the world and I want to reorientate the Foreign Office to be much more commercially minded."
He added: "I want us to be much more focused on winning orders for British business overseas, attracting inward investment back into Britain.
"I want to make sure that whenever any British minister, however junior, is meeting any counterpart, however junior or senior and for however short a time, they have always got a very clear list of the commercial priorities we are trying to achieve, whether that is pushing forward British orders, attracting inward investment or promoting bilateral or unilateral trade talks.
"This is extremely important for Britain as we come out of recession and go into recovery."
Mr Cameron rounded off his two-day visit to the US - his first visit since becoming prime minister - after talks with UN Secretary General Ban Ki-moon.
A No 10 spokesman said it had been "a meeting of minds on the full range of current global challenges".
He said the two men had agreed on the current strategy in Afghanistan, on the need for concerted effort for a diplomatic solution to the Iran nuclear issue, and the need for Israel and the Palestinians to engage in peace talks.
Earlier in the day, Mr Cameron met - and shared a hotdog with - the city's Mayor Bloomberg.
Lockerbie
On Tuesday, the prime minister held talks in Washington with President Obama, discussing issues such as Afghanistan, the Gulf of Mexico oil spill and the global economy, as well as the case of British computer hacker Gary McKinnon, who is facing extradition to the US.
The two leaders held a joint press conference after their meeting in which Mr Obama called his country's relationship with the UK "truly special", while Mr Cameron said it was "essential".
The PM also met a group of four US senators who are calling for an inquiry into the release of Lockerbie bomber Abdelbaset Ali al-Megrahi.
Mr Cameron said later he was "not minded" to order an inquiry, because he did not need one to know that the Scottish government's decision to free Megrahi had been "wrong".