UK plans to end 'politically-motivated' arrest warrants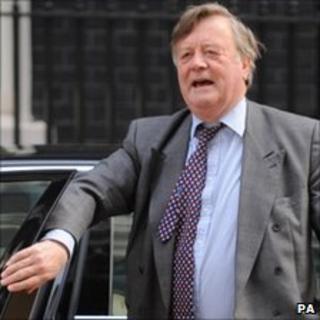 The UK plans to make it harder for private individuals to secure arrest warrants against visiting foreign dignitaries accused of serious crimes.
The proposed changes would apply to "universal jurisdiction" cases such as war crimes, torture or hostage-taking.
The justice secretary says warrants should be sanctioned by the Director of Public Prosecutions, rather than magistrates as is the current system.
Officials fear the system is open to abuse by people with political motives.
'Solid evidence'
Justice Secretary Ken Clarke said: "Our commitment to our international obligations and to ensuring that there is no impunity for those accused of crimes of universal jurisdiction is unwavering.
"It is important, however, that universal jurisdiction cases should be proceeded with in this country only on the basis of solid evidence that is likely to lead to a successful prosecution."
He added that weak cases may risk damaging the UK's ability to help resolve conflicts or pursue a "coherent foreign policy".
The Ministry of Justice said legislation would be brought forward as soon as Parliamentary time allowed.
Amnesty International has criticised the plans, saying they are unnecessary and send the wrong signals.
Senior legal adviser Christopher Keith Hall said: "The UK government is trying to make it more difficult for those suspected of war crimes to be arrested on British soil.
"The current procedure allows victims of crimes under international law to act quickly against those suspected of them, who could otherwise enter and leave the UK before police and prosecutors could act. It should remain unchanged."
He also rejected claims the existing system had been subject to abuse, with warrants issued on "flimsy evidence".
Earlier this month, former Bosnian president Ejup Ganic claimed his extradition case from the UK to Serbia was politically motivated. The case at Westminster Magistrates Court in London continues.
If extradited, he would face prosecution for alleged atrocities in Sarajevo in 1992.
The Serbian authorities claim he ordered attacks which were illegal under the Geneva Convention. He denies the allegations.
In the past, campaigners have applied to the courts to have a number of high-profile figures detained, including former Israeli defence minister Tzipi Livni, Chinese trade minister Bo Xilai, and former US Secretary of State Henry Kissinger.
The previous Labour government also sought to tighten existing laws.
'Headline grabbing'
It proposed letting the Crown Prosecution Service decide whether to issue warrants for alleged international law violations rather than magistrates.
Writing in the Daily Telegraph in March, then Prime Minister Gordon Brown said: "As we have seen, there is now significant danger of such a provision being exploited by politically-motivated organisations or individuals who set out only to grab headlines knowing their case has no realistic chance of a successful prosecution.
"There is already growing reason to believe that some people are not prepared to travel to this country for fear that such a private arrest warrant - motivated purely by political gesture - might be sought against them."
In December, a warrant for the arrest of Ms Livni was issued at Westminster Magistrates' Court after moves by pro-Palestinian campaigners angry at Israeli action in Gaza.
The move sparked complaints by the Israeli government and saw Ms Livni cancel her visit.