Cameron chairs cabinet meeting at Chequers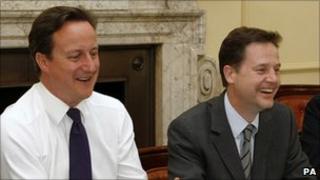 David Cameron has chaired his final cabinet meeting before Parliament's summer recess at Chequers.
The prime minister briefed colleagues on his trip to the US as well as the latest growth figures.
Ministers then had a three-hour "political cabinet" to discuss strategy and how the coalition is working.
Some Lib Dems fear their party's identity is being lost and the Tories are using them for "cover" for unpopular policies.
They have argued that the party needs to distinguish more clearly which policies they actively support from those they are obliged to back as part of the coalition agreement.
September's conference could be a focal point for dissent by Lib Dem activists unhappy with coalition decisions such as the planned 2.5% rise in VAT and cuts to school buildings programmes.
The BBC understands that Conservative politicians are likely to attend fringe events at the Liberal Democrat autumn conference, and Lib Dems are likely to appear on the fringe of the Conservative conference.
But the respective party leaders, Nick Clegg and David Cameron, will each attend only their own party's conference, contrary to some press reports.
A Downing Street source said the main focus of the political cabinet was the coalition's objectives and taking the fight to Labour.
Despite recent remarks by senior Lib Dem backbencher Tim Farron that the party's coalition with the Conservatives is a "poor ideological fit", ministers have been keen to stress the common ground they share in many policy areas such as civil liberties and education.
Speaking last week, deputy prime minister Nick Clegg - one of five Lib Dem ministers in the cabinet - said his party's "reforming zeal" was shared by the Tories.
"We are independent parties but working together on a shared agenda - a hugely positive development for British politics - in and of itself," he said.
'Detoxify'
Senior party figures who are not members of the government, led by deputy leader Simon Hughes, have in recent weeks sought to rally support for the coalition and stress the progress it has made in implementing key Lib Dem policy objectives.
They are reported to be looking at ways in which they can carve out positive ground for the party ahead of October's spending review, which will finalise plans for huge spending cuts across most government departments.
This could see Lib Dem ministers making policy announcements in areas such as environment, training and skills at their party conference at Liverpool.
Mr Hughes told BBC News the Lib Dems had struggled to spell out their own "distinctive policies" so far and that over the summer recess, which begins on Tuesday, the party leadership must do more to reassure supporters about its influence over policy direction.
"The best opportunity to re-establish our own identity begins here," he said.
"It will happen at our party conference and it will happen because, at last, we have set up our policy teams in Parliament which will be coming with the policies on which we will stand at the local elections next year."
But Tim Farron stepped up his attacks on the Conservatives, saying the Lib Dems were being used to "detoxify" the Conservative brand.
He added that the party must avoid becoming "managerial" in government and remain "spiky" when it came to defending "crusading" principles.