Lib Dem MP Tim Farron attacks 'toxic Tories'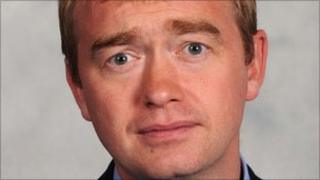 A Lib Dem MP has said many Tory MPs are "toxic" and claimed David Cameron is using his coalition partners as "cover" for unpopular decisions.
Tim Farron told the BBC the Tory leader gave the Lib Dems such a "good deal" partly to help his own party's image.
Meanwhile, Lib Dem deputy leader Simon Hughes said his party would not have backed the government's academies bill if they had not been in the coalition.
The comments come amid growing unease within the party about decisions taken.
Liberal Democrat activists and some MPs are concerned about the party leadership's backing for a VAT rise, which they opposed at the general election, and cuts to school buildings programmes.
Deputy Prime Minister and Lib Dem leader Nick Clegg has insisted he will continue to stand up for liberal principles in government and that there is much common ground with his Conservative coalition partners.
Mr Farron has been sceptical about the coalition since its formation, describing it as a "poor ideological fit".
However, he has now gone further and suggested that the Conservatives are seeking to exploit their partners for their own ends.
'Potentially compromised'
"Why would David Cameron have given us such a good deal?" he told BBC Radio 4's World at One.
"The answer is, first of all, we are providing some cover for them. The reality is that David Cameron has a toxic brand....His brand, including most of his MPs, are toxic.
"It is not my job to detoxify it...I think we have to be aware he has envisaged that he gets something out of all this. Part of it is that the Conservative Party, at the end of it, is less ugly than when it went into it. The problem is that most Tory MPs are determined to keep it ugly."
He stressed that he was not seeking to "offend" Tory MPs, but suggested their pre-election support for inheritance tax cuts and resistance to the proposed increase in capital gains tax showed the party had not changed.
"I think there is a sense that the Conservatives would have preferred a less fair budget. I think that is blindingly obvious."
The Lib Dems must avoid becoming "managerial" in government and remain "spiky" when it came to defending their "crusading" principles, he added.
"Our identity is going to be potentially compromised if we are not careful."
Mr Hughes, who beat Mr Farron in the contest to become deputy leader last month, said the Lib Dems had struggled to spell out their own "distinctive policies" so far.
Over the summer recess, which begins on Tuesday, he said the party leadership must do more to reassure supporters about its influence over policy direction.
"The best opportunity to re-establish our own identity begins here," he told the same programme.
"It will happen at our party conference and it will happen because, at last, we have set up our policy teams in Parliament which will be coming with the policies on which we will stand at the local elections next year."
'High-risk deal'
In doing so, he said the party must make clear what it had already achieved in government in the face of fierce Labour attacks.
"We have been in the front line and therefore, in some respects. we have been in the firing line," he added.
"We always knew that the coalition deal was a high-risk exercise....We have now to make sure that our particular policy is worked on, pronounced and announced and obvious to people."
The party should distinguish more clearly which policies they actively support from those they are obliged to back as part of the coalition agreement.
Asked if he agreed with comments by Lib Dem peer Lord Greaves that legislation to give more schools freedom to opt out of local authority control and become academies - which he said was not part of the coalition agreement - was being pushed through with "indecent speed", he said he did.
"The academies bill, no, we would not have supported, and the warning from Lord Greaves needs to be heeded.
"We need to be clear when things come from the Conservative stable this is not our proposal but we have accepted it because it is part of the package."