Man bailed over police protection cost leaks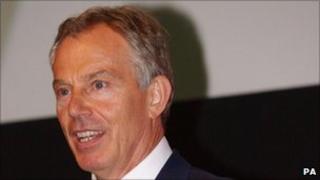 A man who was arrested on suspicion of leaking the cost of police protection operations has been released on bail.
The arrest of the unnamed 27-year-old is believed to relate to recent newspaper reports on the cost of protecting Tony Blair.
The reports said that the former prime minister's police bodyguards were claiming £250,000 a year in expenses.
The Metropolitan Police said the man was a former contractor to the force. He has been bailed until 29 October.
The man was arrested on suspicion of breaching Section Five of the Official Secrets Act.
'Difficult circumstances'
Responding to the newspaper reports earlier this month, Mr Blair's office rejected calls for him to pay his policing costs, arguing that he spent most of his time on unpaid work.
These include his role as a Middle East peace envoy for the Quartet powers - the European Union, United Nations, US and Russia - and charity projects in Africa.
A spokesman for his office said: "Mr Blair has a very high regard for the professionalism of his protection team.
"They do a fantastic job, often in very difficult circumstances particularly in the Middle East."
The Metropolitan police said at the time that it regularly monitors and scrutinises levels of overtime and expenses.
However, its Police Commissioner Sir Paul Stephenson also announced a shake-up in the way high-profile figures were protected by the force.