Wind turbines 'set for increase'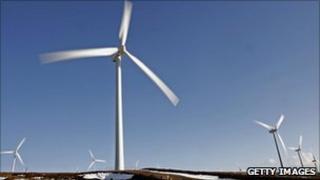 The number of UK wind turbines is set to rise to avert a power crisis, Energy Secretary Chris Huhne has indicated.
In a Sunday Telegraph interview, the Lib Dem minister backed new onshore and offshore wind power over nuclear.
Mr Huhne, whose department is facing cuts of between 25% and 40%, said turbines were "incredibly competitive" but not always popular among locals.
Offshore sites had fewer planning issues and were "likely to be an important part" of energy independence.
There are currently around 250 wind farms operating in the UK, with a further 12 offshore, with 2,909 turbines in operation in total. A further 27 onshore and five offshore wind farms are currently under construction while plans for another 468 wind farms have been announced.
'Beautifully windy'
Speaking ahead of a key policy statement to the Commons on Tuesday, Mr Huhne identified Dogger Bank in the North Sea as a prime area for further offshore development.
"It's relatively cheap to put wind turbines in that shallow area," he said.
"It's beautifully windy so it does actually produce a lot of electricity - that is a really important natural resource for us."
Mr Huhne said the UK needed to become more independent in energy production to allow it to withstand "shocks from the outside world".
"The lights will not go out on my watch," he said.
The Energy Secretary said it was feasible for Britain to be totally self-sufficient thanks to renewable sources, which also includes wave power and harnessing tidal streams.
"It implies quite a stretch as it implies we would be building an awful lot of turbines around our coasts. But the technology is changing. It is becoming substantially cheaper to generate from these renewable sources," he said.
Plans for new nuclear plants won support from both the Tories and Labour in the previous parliament but Mr Huhne said the new coalition had "no money" to subsidise such a move.
Under the coalition agreement, Lib Dem MPs can register their long standing opposition to the issue by abstaining from any parliamentary vote.
Mr Huhne, however, told the Telegraph he expected new power stations would be built through private investment "given the framework we can put in place".