Gordon Brown book on economy out in November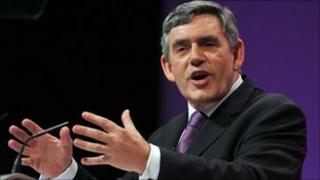 Former Prime Minister Gordon Brown's account of the global financial crisis is to be published in November.
Mr Brown said the book would "explain how we got here" and contain "some recommendations" on the future of the global economy.
Publishers Simon and Schuster said it would be "controversial" and represented a "most exciting global publishing opportunity".
Predecessor Tony Blair's memoirs are scheduled for release in September.
Former Business Secretary Lord Mandelson has also written a book about his time in office, much of which focuses on the disputes between Mr Brown and Mr Blair during their time at the top of government.
'Global solutions'
Mr Brown, who is MP for Kirkcaldy and Cowdenbeath, has reportedly been writing thousands of words every day since leaving office after Labour lost the general election in May.
His book, which has no title yet, will set out the measures he believes must be taken to ensure future financial stability.
The profits will go to charities associated with the Brown family. Simon and Schuster would not comment on how much the deal was worth.
Mr Brown said: "Our economies are connected as never before, and I believe that global economic problems require global solutions and global institutions.
"In writing my analysis of the financial crisis, I wanted to help explain how we got here, but more importantly to offer some recommendations as to how the next stage of globalisation can be managed so that the economy works for people and not the other way around."
Simon and Schuster's UK managing director and chief executive, Ian Chapman, said it would be "an important and controversial book".