Cable defends 'civil partners' amid 'Brokeback' row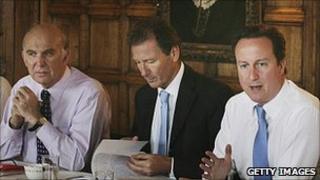 Business Secretary Vince Cable has rejected descriptions of the government as a "Brokeback coalition", likening instead to a civil partnership.
Tory MP David Davis reportedly said last week that ex-Tory deputy chairman Lord Ashcroft used the phrase - an apparent reference to Brokeback Mountain, a film about two gay cowboys.
He has since said this was a mis-hearing of the conversation.
Mr Cable said the coalition was a "good collaboration" that was "working well".
According to the Financial Times, Mr Davis' comments were made during a lunch meeting with business leaders at the Boot and Flogger wine bar in Southwark, south London, on Thursday.
'Not marriage'
Mr Davis, the former shadow foreign secretary who lost the 2005 Tory leadership contest to Mr Cameron, also apparently ridiculed the prime minister's "Big Society" campaign to boost civic engagement as "Blairite dressing" for spending cuts.
The alleged comments come amid growing signs of tension on the Lib Dem and Conservative backbenches about the progress of the coalition.
Last week, Lib Dem MP Tim Farron told the BBC that David Cameron's "brand, including most of his MPs, are toxic" and his party had been brought into the coalition to provide "some cover for them".
But Mr Cable, one of five Lib Dem MPs in the Cabinet, said characterising the government as "Brokeback" was wrong.
"If we are into that field of analogies, it is a civil partnership," he told Radio 4's World At One programme.
"It is not a marriage but it is civil. It is working well.
"Not brokeback, not at all. It is a good collaboration."
The business secretary said the coalition had "done a lot" within its first few months but had to continue demonstrating its ability to "work together as a team".
'Brokeback club'
In the wake of Mr Davis's alleged remarks, it has been reported that a "Brokeback Club" of Tory backbench MPs sceptical about the coalition with the Liberal Democracts is being set up.
Former Tory cabinet minister John Redwood, who chairs his party's economic competitiveness policy group, has warned colleagues against such a move.
He told BBC Radio 4's Today programme he had heard of the supposed development only through the media.
"No, I haven't been sponsoring it. I haven't been invited to join it and my advice to colleagues is I wouldn't do it," Mr Redwood said.
Backbench Conservative MP Mark Pritchard, secretary of the influential 1922 committee, is reported by the Daily Mail and the Daily Telegraph to be trying to get three right-wing Tory "dining clubs" - the No Turning Back group, the '92 group and Cornerstone - to talk to each other.
But the MP for the Wrekin laughed off suggestions he was setting up a "Brokeback dining club" to oppose the coalition when contacted by the BBC, saying: "I know nothing about a dining club".
Deputy Prime Minister, and Lib Dem leader, Nick Clegg has described the phrase "Brokeback coalition" as "colourful" but suggested it did not really capture the "spirit" of the arrangement.
He stressed that two separate parties had come together "in the national interest", recognising the country was facing "some very difficult short-term challenges".
Culture Secretary Jeremy Hunt, a Conservative, had said "Brokeback coalition" was "a very catchy phrase" but the government arrangement was all about "people from different parties rolling up their sleeves."