Can David Cameron win friends in India?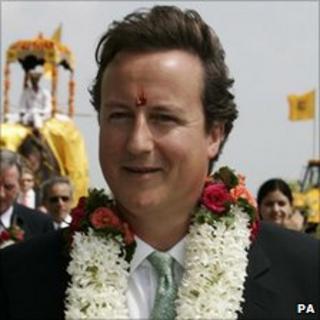 For several weeks leading up to UK Prime Minister David Cameron's visit to India, the British media has speculated long and hard about what he is set to achieve.
Much has been written about this "special relationship" coming close on the heels of the other, transatlantic one.
There has been insider commentary from Conservative MP Jo Johnson, a former Financial Times bureau chief in Delhi, reports on lucrative trade deals ready to be struck, and even questions about whether Britain has missed the boat by neglecting its relationship with India for so long.
In contrast, the Indian media has devoted no coverage to the impending visit - at least not yet.
Nothing on the fact that Mr Cameron will be accompanied by some of the most senior members of his cabinet, nor that he brings with him one of the largest UK trade delegations ever to visit India.
In fact, just a day before his arrival, Delhi rolls out the red carpet for the Burmese military leader, Than Shwe, a pariah in much of the Western world.
It is illustrative of one of the key questions the British prime minister will face as he arrives in India.
His government may well want to forge a special relationship with India and view it as a major partner. But does India really care?
Political sympathy
It has been more than a decade since a Tory premier visited India. The following Labour years are largely seen by both sides as having done little to push the relationship on.
Much of this has to do with the fact that, historically, Indian governments have been more comfortable dealing with the Conservatives, who are seen as business-friendly and pragmatic.
In contrast, Labour (including New Labour) have often raised Indian sensitivities, especially in connection with Pakistan and the complex issue of Kashmir.
Robin Cook, in his capacity as foreign secretary, was particularly unpopular for his frequent pronouncements on Kashmir - something that was repeated only last year by the then holder of the same ministerial office, David Miliband.
But India has also changed substantially in the intervening years.
Its fast growing economy, which unlike the UK's has managed to comfortably ride out the global recession, has made it an aggressive international player with growing ambitions.
It is also a major voice in the G20, which is increasingly seen as the definitive driver of global economic policy, and it has also played a key role in climate change talks.
Both of these issues are at the heart of the new Tory government.
Mr Cameron has openly stated that business lies at the centre of his foreign policy and insisted that Britain will have to reach out to countries such as China and India.
The question people in India are asking is - what does he have to offer?
Competitor nations
The game-changer for relations between the United States and India was the civilian nuclear deal struck between George W Bush and Manmohan Singh.
It opened up the lucrative billion-dollar Indian civilian nuclear market to Western (especially American) business, but more importantly, it pushed India into the big league of global political powers.
It was a happy marriage of India's growing economic ambitions and its hunger for major player status.
The UK, in contrast, is hamstrung in what it can bring to the table. Economically, it is competing for a slice of Indian business with the Americans, the Europeans and even the Chinese and Japanese.
And while it publicly backs India's push for a permanent seat on the UN Security Council and supports its position in global trade talks, it cannot realistically hope to do a lot more.
So Mr Cameron will have to fall back on a well-worn cliché - India's historical ties to its former colonial power, which are more than 300 years old.
The PM will hope to use the influence of the two million strong British-Indian community and also the fact that a number of top Indian companies are now operating in the UK.
Currying favour
It may just work.
Despite the fact that Indians tend to look more to the US for opportunities, Britain still has considerable appeal.
Every year, Indian students spend some £300m ($465m) in tuition fees at British colleges and universities.
British high-street retailers such as Marks and Spencer and Debenhams have done surprisingly well in India.
There has even been a modest attempt at reintroducing curry to the country of its birth by British Asian chefs.
But it is a narrow window of opportunity - and one that could close quite rapidly - especially as many in India recognise that, at least for now, they hold the cards.