Election voting reform urged by watchdog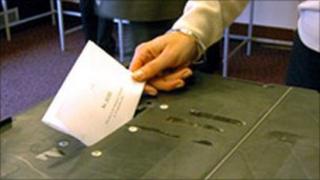 The government must reform the way voting in general elections is organised, a watchdog says.
The Electoral Commission urged ministers to take "immediate action" to ensure confidence by the expected date of the next general election in 2015.
It comes after some people were unable to vote because of lengthy queues at polling stations on 6 May.
The watchdog also called for ministers to consider requiring voters to produce proof of identity at the polls.
Currently only voters in Northern Ireland are required to present some form of photographic identification when they go to vote.
In its report on the 2010 general election, the Electoral Commission said the government needed to develop a "comprehensive electoral modernisation strategy" in order to ensure the long-term health of the system.
It said in the majority of constituencies the elections were well run, without major problems, but urged ministers to look at ways of strengthening the system in order to maintain public confidence.
A third of voters were unhappy about the way the poll was run on 6 May, it said.
Commission chairwoman Jenny Watson said Britain was "lucky" to have "inherited a trust-based system from previous generations" but "it could not endure forever".
Confidence 'fragile'
"The basic building blocks of electoral administration need long-term support and reform in order to ensure that voters can be sure that their vote counts.
"Voter confidence is fragile and may take time to rebuild after high profile problems like the ones experienced at some polling stations at 10pm.
"In the vast majority of constituencies elections were well run - but this is despite the system, not because of it," she said.
The watchdog reiterated an earlier call for ministers to change the law to allow anyone who was in a queue at the close of poll to be allowed to vote.
Its recommendations included making it easier for those overseas and the armed forces to participate, and further strengthening of the postal voting system.
In May, about 220,000 of more than five million postal votes cast were disqualified because the postal voting statement - which must be returned with the vote - did not tally with the details on their original postal vote application.
The report also called for better co-ordination and accountability from returning officers.
In other measures, it said that the electoral timetable needed to be rationalised to avoid problems created by a clash in the deadlines for new postal vote applications and new elections.