Blair aide peer cleared of cash-for-influence claims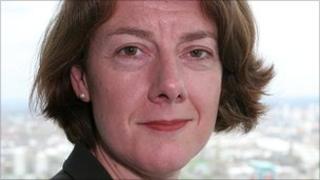 The Lords standards watchdog has cleared a former Tony Blair aide over claims she was ready to exercise parliamentary influence for cash.
Baroness Morgan of Huyton was secretly filmed by Channel 4's Dispatches, saying she could talk to ministers or speak in debates on behalf of clients.
But she had an "imperfect" knowledge of the peers' code of conduct, the Lords Privileges and Conduct Committee found.
She was not trying to work as a lobbyist, which is banned, it added.
The peer was recorded in March saying that she had to "be careful" about what she did, because of the House of Lords code of conduct, but could "push a direction of travel on policy".
'Better understanding'
It was also alleged that she had asked a question in the Lords last year about the provision of diabetes testing for children without declaring that she is a paid member of the Lloyd's Pharmacy healthcare advisory panel.
Following the broadcast of the programme, Lady Morgan, who as Sally Morgan was Mr Blair's "gatekeeper" in 10 Downing Street, triggered an investigation by referring herself to the committee.
It has found that her conversation with the reporter did not amount to an agreement to provide services as a lobbyist, and that she had made clear she would be bound by the terms of the code of conduct in any work she agreed to do.
It therefore rejects the allegation that she had breached the code by being prepared to accept financial inducement as a reward for exercising parliamentary influence.
However, the committee has cautioned: "Lady Morgan's understanding of the code of conduct was imperfect.
"She was wrong to suggest that she could speak in debates related to her clients' interests if she had been providing those clients with parliamentary advice; and wrong to suggest that she could in any circumstances approach ministers, special advisers or civil servants for anything other than information.
"All members should have a better understanding of the rules than that which Lady Morgan exhibited."
The committee also found there was no need for Lady Morgan to declare her link to Lloyd's - which she had recorded in the Lords register of interests - as the company does not offer diabetes testing to under-18s and had not asked her to intervene on the issue.