Minister launches waste review to reduce rubbish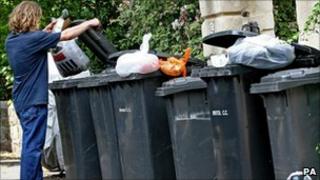 The government is seeking ideas to achieve a dramatic cut in the amount of rubbish thrown away by households in England.
Environment Secretary Caroline Spelman has launched a review of how to achieve a "zero waste" economy.
It will look at cutting product packaging and how best to reward people for throwing less away.
Councils will also be asked to come up with ways to improve the frequency and "quality" of bin collections.
A Department of Food, Environment and Rural Affairs spokesman said it wanted to make bin collections more "user friendly" and would examine the problems caused by multiple wheelie bins cluttering up the streets, although there are no firm policy proposals for cutting their numbers as yet.
'Inappropriate enforcement practices'
The government wants to increase recycling and reuse - and cut down on wasteful product packaging - with the eventual aim of sending no waste to landfill sites at all.
It is also examining ways of producing more energy from household waste, such as increasing the UK's anaerobic digestion capacity.
It has pledged to address civil liberty concerns about the "inappropriate enforcement practices associated with household collections".
Caroline Spelman said: "This is an exciting opportunity to look again at how we can increase recycling, reduce landfill and help unlock the real economic value of items people no longer want.
"We are committed to working towards a zero waste economy because it makes environmental and economic sense. Reducing waste needs to be made as easy as possible for people - it should be driven by incentives not penalties and common sense rather than coercion.
"We want everyone to have their say on what waste policies should look like and how existing policies affect them. This will be a comprehensive review of all waste policy from product packaging to waste collection and I would urge everyone to get involved."
'Back door'
The coalition government has scrapped Labour's planned "pay as you throw" schemes, which allowed councils to reward households who reduced waste and fine those who did not.
It has instead been looking at schemes such as that run by Windsor and Maidenhead Council, which weighs household rubbish and rewards those who throw less away with money-off vouchers and loyalty points.
But civil liberties campaigners have said the scheme is being used to pave the way for eventual pay-as-you-throw schemes "by the back door".
Pay-as-you-throw is still being considered in Wales, but there are no plans for it in Scotland and Northern Ireland.
Defra is calling for submissions from interested parties on how to achieve a "zero waste" economy. It aims to produce preliminary findings in spring 2011.