Cable invitation to speak at TUC congress 'withdrawn'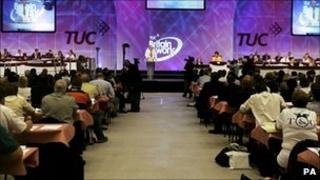 Business Secretary Vince Cable will not address the TUC's annual congress after his invitation to speak was withdrawn.
It means the 2010 congress will be the first that a government minister has not attended for more than a decade.
TUC officials said Mr Cable would meet a delegation of union leaders privately instead, to discuss relevant issues.
The business department said Mr Cable was not offended. A spokesman said Mr Cable was willing to talk to union leaders at any time.
Mr Cable was asked to speak earlier this month, and accepted, after Prime Minister David Cameron said he could not attend as the event was likely to coincide with his wife giving birth and his planned period of paternity leave.
One union had threatened to walk out if the Conservative leader had attended.
Strike threat
The Business Department said Mr Cable had since been "uninvited", but a TUC spokesman said the private meeting with TUC general secretary Brendan Barber and other officials would provide a full opportunity to discuss issues at length.
Relations between the coalition and the union movement have quickly become strained with union leaders promising to fight planned spending cuts, which could see departmental budgets shrink by between 25% and 40%.
They argue the cuts will increase unemployment and damage public services.
One union, the PCS, has threatened strike action over plans to cap redundancy payments to civil servants.
Acting Labour leader Harriet Harman is due to speak at September's event in Manchester, as well as Bank of England Governor Mervyn King.