Labour's Ed Miliband says coalition 'built on untruths'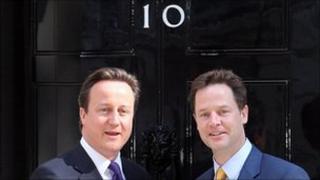 Labour's Ed Miliband has claimed the coalition government was "built on a series of untruths" after revelations in a BBC documentary.
David Cameron sold the coalition idea to his Conservative party by telling MPs Labour was offering Lib Dems a switch to the alternative vote system without a referendum, the BBC revealed.
Mr Miliband, who was a member of the Labour team negotiating with the Lib Dems, said no such offer was made.
Mr Cameron denied misleading his MPs.
Mr Cameron made an offer of a referendum on voting reform to Liberal Democrat leader Nick Clegg at a crucial moment in negotiations over forming a coalition government.
'I was certain'
But the Conservative leader could not have done so without first convincing his own MPs, who were deeply hostile to the idea, that it was the only way to salvage a deal with the Lib Dems, for whom electoral reform has always been a key demand.
Asked by the BBC's Nick Robinson in the documentary Five Days That Changed Britain, broadcast on Thursday, if he had misled MPs by suggesting Labour had offered AV without a referendum, Mr Cameron responded: "No, because I was absolutely certain in my own mind that was the case.
"And I had, I think, good reason to be certain," he said.
"A number of people had told me what was - what they thought was - going on and conversations that were taking place about AV without a referendum.
"And also I'd had a conversation with Nick when I'd argued very vigorously that you couldn't do alternative vote without a referendum - it would be wrong."
But Mr Clegg told the programme, which examined the five days of negotiations that followed May's inconclusive general election, that no offer of AV without a referendum was ever formally made to him.
He said that MPs' perception was that such an offer might be on the table.
"The perception, which I think was accurate, was discussions are out and it might have been an offer that might have been made and might have been considered," he said.
"Was it ever formally made to me? No it wasn't."
Leadership poll
Commenting on the controversy on BBC's Newsnight, Mr Miliband said he was not aware of Labour leader Gordon Brown ever offering Mr Clegg a switch to alternative voting without a referendum during what turned out to be abortive negotiations between Labour and the Liberal Democrats.
He said: "The first I knew about even the prospect that the Liberal Democrats might ask for this was at the first meeting we had as a negotiating team and all of us on the Labour side... were very sceptical about it and thought it was completely not a runner.
"I don't know where this idea came from. It was probably a bit of a negotiating tactic by Nick Clegg. But I think it does rather suggest that this coalition is built on a series of untruths."
It comes as a poll of Labour members suggests Ed's brother David Miliband is set to to be the new Labour leader.
The YouGov survey for the Sun newspaper predicted that the Milibands will claim the first two places in Labour's electoral college, comprising MPs and MEPs, party members and affiliated organisations including unions, when the votes are counted in September.
When the votes of the defeated candidates, which the poll says will be Ed Balls, Diane Abbott and Andy Burnham are redistributed, shadow foreign secretary David would beat shadow energy secretary Ed by a margin of 54% to 46%.
Asked about the findings on Newsnight, Ed Miliband refused to accept that the race was over, saying: "I will congratulate whoever the winner is when the result is announced on September 25."
Almost 2,500 Labour members and trade unionists were polled and the results analysed along with recorded declarations of support by MPs and MEPs.
YouGov found that David Miliband would take 37% of the electoral college vote in the first round, followed by Ed Miliband on 29%, Ms Abbott and Mr Burnham on 12% and Mr Balls on 11%.