David Miliband says Labour may face years out of power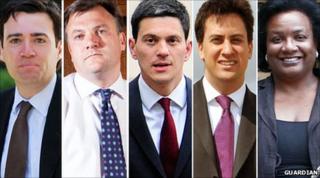 David Miliband has warned in the final hustings of the party's leadership contest that Labour could face years in the political wilderness.
The former foreign secretary spoke out in a question-and-answer session with all five candidates in Manchester.
He reminded the 600-strong audience of Labour's previous long periods in opposition following election defeats.
"We could be out of power for a long time, history tells us we will. I want to buck that trend," he said.
"This is a time to be serious," said Mr Miliband, the MP for South Shields.
The other four candidates - Mr Miliband's younger brother Ed, Andy Burnham, Ed Balls and Diane Abbott - also made final pitches for the leadership during the debate at New Century House.
Mr Burnham promised to put the "heart and soul" back into the party and to reconnect it with "the ordinary people who have lost faith with Labour."
Promising to break with New Labour's "London-Centric" past, the Leigh MP said: "We can't have more of the same.
"We have to change. We can't have the people's party run by the chattering classes on the London dinner party circuit."
Left wing outsider Diane Abbott said the party needed to "change the narrative."
Big issues
Ms Abbott, described by Ed Balls as the "not candidate" because she had not been in cabinet and could not be blamed for past mistakes, said: "They are all very good, aren't they? The young princes, the Top Guns of New Labour."
The MP for Hackney North and Stoke Newington also claimed to have called the big issues right in the past, such as when she opposed the war in Iraq.
Mr Balls, MP for Morley and Outwood, said the split between Tony Blair and Gordon Brown had "cast a cloud over everything" in the party. He said Britain needed to "speak up more" in its dealings with the US.
Ed Miliband, MP for Doncaster North, said that when the winner of the leadership ballot is announced in September "we all have to unite behind whoever is the leader."
The debate was hosted by ITV football commentator Clive Tyldesley, who said he was a "great believer" in the party's values and ideas.
Voting will take place between 16 August and 22 September with the winner being announced on the first day of the party's conference in Manchester on 25 September.
Labour MPs, Members of the European Parliament (MEPs), party members and members of affiliated organisations, such as trades unions and socialist societies, are all entitled to vote in the election.
Nearly a million people voted in the last contested election, in 1994. Anyone who joins the Labour Party by 8 September is eligible to vote.