Tony Blair's book 'to contain unflinching detail'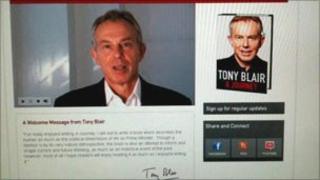 The website set up to promote Tony Blair's forthcoming memoirs promises the book will have "frank, unflinching" detail of his time in office, including his relationship with Gordon Brown.
If so, it would be first time that one of the two key New Labour figures had given a first hand account of how they worked together.
The website says A Journey, due out next month, sees him describing "his role in shaping our recent history from the aftermath of Princess Diana's death to the war on terror".
The former UK PM says the book - whose title has been changed from The Journey to A Journey - is "an attempt to inform and shape current and future thinking as much as a historical event of the past".
Lord Mandelson recently published his own account of the New Labour years in his memoir, while Mr Blair's successor as Prime Minister, Mr Brown, is understood to be penning his own book - reportedly about the financial crisis - at the moment.
Lord Mandelson's book gave his account of tensions between Mr Blair and Mr Brown, but the two men themselves have never gone into detail about their working relationship.
The fee for the book is expected to run into millions of pounds although neither Mr Blair nor the publishers Random House have commented on the sums involved.
Mr Blair follows in the footsteps of former prime ministers, including Sir John Major and Lady Thatcher, who wrote memoirs after leaving office.