Whitehall memo reveals word-speed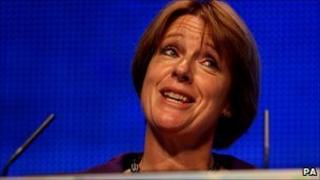 Environment Secretary Caroline Spelman likes to talk quickly, but not quite as quickly as one of her junior ministers, a document focusing on the inner-workings of Whitehall reveals.
Ms Spelman and her ministerial colleagues have set out sheets of advice for staff at the Department for the Environment, Food and Rural Affairs (Defra) on how to prepare them for their duties.
The document gives guidelines on debates, speeches, meetings, correspondence and answering questions from fellow parliamentarians.
Among the "drafting preferences" for civil servants is the revelation that Ms Spelman manages 100 words per minute when giving a speech.
Colleague Lord Henley, whose responsibilities include "bee health", fairly buzzes along at 115.
'Don't say'
Meanwhile, Ms Spelman estimates her meetings will generally last 45 minutes, while the fast-talking peer needs just 30 minutes to get his points across.
Minister of State Jim Paice, who is in charge of forestry, food and farming and Parliamentary Under-Secretary Richard Benyon, who oversees most marine matters, both say they speak at 100 words per minute
They also opt for meetings of about half an hour.
In other advice for civil servants, Ms Spelman urges that all correspondence should be "drafted in plain English, without jargon and with acronyms clearly spelt out".
Letters must also have "Caroline Spelman MP" placed centrally at the bottom, with the letters in bold capital font.
As for answering questions in Parliament, she asks that civil servants "try and anticipate tricky issues", while "the odd figure is useful".
To avoid embarrassment, Ms Spelman and her three colleagues all implore: "Never put anything into the briefing that you don't want the [minister]... to say - even if it is marked 'Don't say'."
In written answers from ministers, staff are told to refer to "Defra", rather than the more regal-sounding "my department". They must be called "Defra officials", never "my officials", Ms Spelman adds.