Labour turns to Obama-style community organising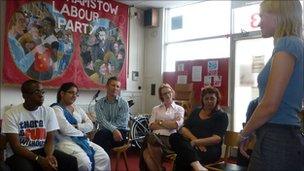 Could the community organising techniques made famous by US President Barack Obama help boost Labour party membership?
Anne McElvoy of BBC Radio 4's Beyond Westminster tries them out, and gives her view on whether it is an effective way to get more people involved in politics.
Who would be in a political party these days? For most people who do not relish lengthy evening meetings spent with agendas, motions and the minutes of last week's meeting, the traditional political party structure has held less appeal as the years have gone by.
All the main parties have shown a downward trend in membership since the 1960s. Just more than 1% of us are members of a main political party now - one of the lowest rates in Europe.
Can that be changed? And do parties themselves need to change what they do if they are to persuade more of us to join them?
One new idea being road-tested by the campaign of Labour leadership candidate David Miliband is hiring professional community organisers to give local party organisations more purpose.
It is an idea borrowed from the US, where the young Barack Obama did a stint in this role as a young man in Chicago, working with groups who wanted to improve things like housing conditions in south Chicago.
Greg Galuzzo helped train Mr Obama at the time. He explained to me that the organisers' role is to develop future leaders in localities, and help them work more efficiently to get what they want. He said it is different from other community activism, which tends to peter out once the immediate goal has been reached.
My own interest in this was sparked by the way it had taken over from the idea of online political communities as the "new thing" intended to reawaken interest in politics - and make it more democratic and relevant.
So I joined Sophie Stephens, a community organiser hired by the Movement for Change, the Labour incarnation of this big idea.
I attended a session in Walthamstow, where local Labour members were being schooled in how to become more community-minded.
I had thought Sophie would start by telling us how to organise more efficiently. Instead, she wanted us to adopt a one-to-one strategy.
It is a key element of community organising - the idea that people build more lasting relationships and work more productively towards shared goals if they have got to know each others' background and values first.
My experience of this was mixed.
Sophie insisted that we should probe deeper into the family background and beliefs of the people we were meeting. Had all these Labour activists really spent time together without finding out quite enough about each other already?
And knowing that X hated Margaret Thatcher and Y had come into politics because of their mother and father did not seem to take things very far to me.
One of the intentions here, though, is to channel existing interests and concerns into shared action.
Next we headed to Leeds, where I joined a Movement for Change group who were practising negotiating techniques - under the watchful eye of Sophie, with her marker pen and flip chart.
This did put my scepticism to the test. We sat down in two teams - one side trying to persuade the other, a "local council", to provide a lollipop lady to reduce accidents outside their school. The "council" team was being as obstreperous as a cash-strapped, cuts-bound local authority in 2010 might well be if asked by a local group to spend money.
We were encouraged to work out who had power over which decisions, where the pressure points were - and not to be put off by the salami tactics and diversions of the (rather unhelpful) "council".
On the first outing, Sophie told us very nicely that our negotiating had achieved precisely nothing: we had let the other side off the hook. But the techniques are not hard to learn.
Can they mix happily with party politics, however?
After all, what parties want is to enhance their local membership. It is hardly an altruistic business, if they are doing the community organising.
Greg Galluzo, as a veteran of the movement, has his doubts: he dislikes "political organising wearing the mask of community organising".
The parties, however, do need to give members something to do between elections. And Peter Watt, a former Labour general secretary, says that the localista route is a beneficial way to get more people involved.
He points out that being a tribal member is an unattractive offer to most people. These days, we have more fleeting relationships with groups and services, so it is unrealistic to think that traditional parties will be exempt from that trend.
Interestingly, there was more agreement on this than I expected.
The Conservatives have also proposed using community organisers as part of their Big Society attempt to make people less dependent on the state.
And the Liberal Democrats' membership director, David Loxton, says his party benefits from having members with different levels of commitment - some motivated by single causes, others by loyalty to the party brand.
I still see a clash of aims here. David Milliband's campaign makes clear in the small print of its Movement for Change document that it is not responsible for the outcome of what community organisers or local campaigns might do.
To me, it is a kind of localism lite. The party would get the credit for successful enterprises, but distance itself from any which had a backlash or did not work out so well. And who knows what the more zealous trained communitarians might get up to - and what the party hierarchies would make of it?
What this approach is good at is channelling the kind of concern a lot of people feel about their surroundings into focussed action. It just might pep up that dwindling pastime in British life: joining a political party. And the signs are, we will be hearing a lot more of it in the years to come.
Anne McElvoy is the Evening Standard's political columnist, Beyond Westminster is broadcast on Saturday at 11:00 BST on BBC Radio 4.
Related Internet Links
The BBC is not responsible for the content of external sites.