What do you think of the new government?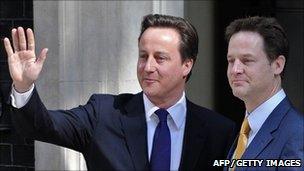 By next week David Cameron will have led the new coalition government through its first three months. How do you think the government is doing?
On 11 May David Cameron succeeded Gordon Brown, heading the country's first coalition government since 1945. The government wasted little time unveiling a series of major reform plans. We want to hear what you think of these measures, and how they have affected you.
At the end of May the government's first Queen's Speech highlighted plans for reforming schools, police, welfare and Britain's political system. In June George Osborne unveiled his first Budget which raised VAT to 20% and cut welfare spending.
The prime minister is also holding a series of public road shows over the summer, dubbed "PM Direct", to persuade voters of the need to impose spending cuts ahead of October's Comprehensive Spending Review.
We asked you how you would you rate the government after the first three months.