Veterans urged to submit views to Iraq inquiry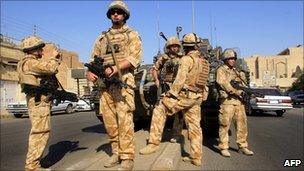 The Iraq inquiry has invited British veterans of the war to share their views on how the conflict was run.
The chairman, Sir John Chilcot, hopes those who served in the country between 2003 and 2009 will provide insights into how the campaign was conducted.
In an open letter, he urged military personnel to meet at Tidworth garrison in Wiltshire on 14 September, or make written submissions to the inquiry.
It is looking at the UK's role in the war and the handling of its aftermath.
In his letter, Sir John told veterans: "The purpose of this event is to gain insights from those who are in a unique position to talk about how the campaign was conducted and the impact it had upon their lives.
"This event is an opportunity for you to ensure that your voice is heard and your views feed into the lessons that the inquiry identify."
Written submissions will also be accepted by the five-strong inquiry committee.
Sir John's open letter has been circulated to military personnel via Service Organisations, Ex-service Organisations and Regimental Associations.
Some UK Iraq veterans have already addressed the inquiry at an event at the Defence Academy near Shrivenham, Oxfordshire, earlier this year.
The inquiry panel also met the families of some of the 179 British armed forces personnel or civilians working for the Ministry of Defence who died in Iraq.
Senior politicians, military officers and civil servants finished giving evidence in a second round of public sessions at the end of last month.
Former Prime Ministers Tony Blair and Gordon Brown could potentially be recalled to give further evidence at extra hearings in the autumn.
The inquiry is expected to publish its final report by the end of the year.
Related Internet Links
The BBC is not responsible for the content of external sites.