Michael Gove's big examination
By Chris Bowlby
BBC Radio 4, Profile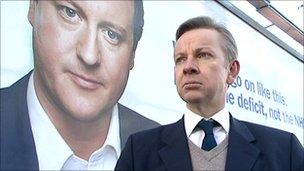 Michael Gove has always been a man who likes to master the facts.
When he was appointed education secretary in May his proud parents told local journalist Kris Gilmartin in their home town of Aberdeen that their son used to "carry an encyclopaedia home from school with him."
When he finished his schoolwork ahead of other pupils, instead of bunking off or passing notes, he would open the encyclopaedia where he had last left off.
Having a reputation as a 'know-it-all' can make life difficult. As Mr Gove has faced recent criticism there have been hints of the rest of the class revelling in the swot having to admit he has got something wrong.
"Miserable pipsqueak" was how Labour MP Tom Watson described Mr Gove during the row over school rebuilding.
But he is long used to the rough and tumble of debate. Former school friend David Stenhouse recalls Mr Gove's early debating career. "He had a very quick mind" and could be "fantastically rude about his opponents".
Debating was in many ways the making of Michael Gove. His mother had hoped he might train as a Church of Scotland minister. His father took him to admire the family fish processing firm, but Michael he recalls, "could not stand the smell."
Instead, Mr Gove headed far from fishy smells to university at Oxford, where he became president of the Oxford Union. However David Stenhouse, who visited him there, suggests some of his fellow students - "the men in tail coats" celebrating Conservative election victories - were still somewhat alien.
David Cameron, then in his Bullingdon Club phase, may well have been among the tail coats. He and Mr Gove are now close friends but not in those days, when their very different backgrounds perhaps stood out.
Having decided to become a journalist, Michael Gove initially went back to Aberdeen. But he was soon caught up in a bitter strike when he and fellow journalists were sacked.
Before long he headed south again, to begin an extraordinarily varied media career in London.
Appearances alongside comedian David Baddiel on a Channel 4 satirical programme accompanied cultural commentary on 'Newsnight Review' or grappling with ethical issues on 'The Moral Maze'.
His writing for the Times newspaper gave him a platform for growing political influence among Tories, debating how to respond to Tony Blair's Labour triumph.
Although some of his views - such as support for US President George W Bush's foreign policy - placed him more on the right. In other ways he urged a move towards the political centre.
But did he himself want political power? He knew how cruel politics could be, having written a biography of Michael Portillo, praising him as the future of Conservatism only to see his ambitions dashed.
He once told Portillo that he had "absolutely no intention of entering Parliament." But Mr Portillo believes he changed his mind when he sensed the "glittering prize" of, say, the editorship of the Times would elude him.
And his ever-closer friend David Cameron was beginning to dangle the prospect of other glittering prizes in front of him, persuading him to stand in 2005 as an MP. Mr Gove, in turn, urged Mr Cameron that autumn to seize the Tory crown.
His reputation for being "too clever by half" might in the past have hampered a Tory career. But Mr Cameron, suggests Michael White of the Guardian newspaper, "is attracted by cleverness - that's why he has [Gove] in his inner circle even though he's not posh at all."
That cleverness is now masterminding potentially one of the most radical of the new Tory plans - to transform English education with more academies and new free schools. It is a personal passion: Mr Gove sees himself as a role model for how education can transform lives.
But his policy is strongly opposed by Labour and by many Liberal Democrats too, as their conference next month is likely to show.
Michael Gove will have to face flak over this and other issues as public spending cuts begin to bite. Only this week he announced the cancellation of plans for new children's playgrounds.
He had never run a substantial organisation before becoming a minister. Now he's learning quickly about the pitfalls of being responsible for a large Whitehall department, answerable to potentially angry groups including parents, teachers and unions.
If he survives and prospers, how far could he go? Could he even lead his party if David Cameron falters? He once rashly predicted such a future for Michael Portillo, who is now prepared, cautiously, to return the favour.
"A man with Gove's articulacy who has none of the trappings of toffdom", says Mr Portillo, "must be a contender for the leadership of the Conservative Party."
But first there is a stiff political examination. As all those pupils awaiting exam results next week could tell him, reading the encyclopaedia in advance won't always prepare you for the most searching educational scrutiny.
Chris Bowlby presents BBC Radio 4's Profile of Michael Gove on Saturday, 14 August at 1900 BST. It will be repeated Sunday, 15 August at 0545 and 1740 BST.
Subscribe to the Profile podcast for weekly portraits of people making the news.
Related Internet Links
The BBC is not responsible for the content of external sites.