Tony Blair donates book cash to injured soldier charity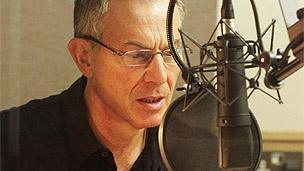 Former Prime Minister Tony Blair is to donate the profits from his memoirs to a sports centre for injured soldiers.
A spokesman said Mr Blair would hand over the reported £4m advance payment plus all royalties to honour "their courage and sacrifice".
The Royal British Legion will receive the money after the book, A Journey, is published next month.
But Peter Brierley, whose son Lance Corporal Shaun Brierley was killed in Iraq, called the gift "blood money".
The money is believed to be the biggest single donation ever received by the Legion, and will go towards the £25m Battle Back Challenge Centre, due to open in summer 2012.
A spokesman for the former prime minister said: "In making this decision, Tony Blair recognises the courage and sacrifice the armed forces demonstrate day in, day out.
"As prime minister he witnessed that for himself in Iraq, Afghanistan, Northern Ireland, Sierra Leone and Kosovo. This is his way of honouring their courage and sacrifice."
He said that after consulting with numerous people, there was "one project consistently highlighted: The Royal British Legion's Battle Back Challenge Centre".
The spokesman added: "As Tony Blair said to the House of Commons on his last day in office: 'I believe that they [the Armed Forces] are fighting for the security of this country and the wider world against people who would destroy our way of life. But whatever view people take of my decisions, I think that there is only one view to take of them: they are the bravest and the best.'"
Chris Simpkins, director general of the Royal British Legion, said: "Mr Blair's generosity is much appreciated and will help us to make a real and lasting difference to the lives of hundreds of injured personnel."
He said he had been "shocked" and "pleasantly surprised" by news of the donation, adding that an "intermediary" for Mr Blair had contacted him about it only last week and had not initially revealed the identity of the would-be benefactor.
Mr Simpkins said the centre would not be named after Mr Blair and stressed that the Legion was a "strictly apolitical" organisation, but was "very happy to receive donations from private individuals" including, in this case, a former politician.
Simon Brown, 31, a former corporal from Morley, West Yorkshire, was shot in the head in 2006 while in Iraq.
He said it "did not matter" where the funding for the new centre came from.
He added: "Tony Blair didn't have to give the money over, he could have just banked it. It if helps ease his conscience then why not?"
Anti-war campaigners reacted with scepticism to the donation, with the Stop the War Coalition saying "no proportion of his massive and ill-gotten fortune can buy him innocence or forgiveness" for the wars in Iraq and Afghanistan.
And Mr Brierley, whose son was killed in Iraq 2003, told the BBC News Channel: "This gift, or donation, is an absolutely fantastic thing, but it doesn't alter my aim that one day we will see Tony Blair in court for the crimes he committed."
But Mr Blair's friend and former constituency agent John Burton denied he had been motivated by a "guilty conscience", saying Mr Blair was "quite convinced the reasons for going into Iraq are still right".
Douglas Young, chairman of the British Armed Forces Federation, said: "From what I've seen so far of reactions among serving personnel and people who have been serving in the past few years and perhaps took part in some of Mr Blair's operations, most of the attitude has been fairly cynical.
"But of course the donation is very welcome."
Mr Blair, who is currently out of the UK, is not expected to comment on the gift.
He is reported to have earned more than £12m since leaving office in 2007 with a string of directorships, including insurance giant Zurich and investment bank JP Morgan, speaking engagements and business consultancies.
He is also an unpaid Middle East peace envoy for the "Quartet" made up of the United Nations, the European Union, the US and Russia.
Mr Blair's publisher Random House has promised the book will provide "frank, unflinching" detail of his time in office, including his relationship with his successor as PM Gordon Brown.
Key figures from Mr Blair's 13 years in power, including Alastair Campbell, Lord Mandelson, Lord Prescott and Mr Blair's wife Cherie, have already published their own accounts of his time in Downing Street and the rise of New Labour.
Senior Labour figures, including Mr Blair, were reported to be upset about Lord Mandelson's book, The Third Man, which laid bare the bitter infighting at the heart of New Labour, and for which he is reported to have received £400,000 for the serialisation rights alone.
Gordon Brown is currently writing a book on the financial crisis which is due to be published later this year.
Related Internet Links
The BBC is not responsible for the content of external sites.