Lord Pearson says UKIP needs a better politician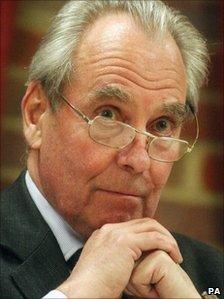 Lord Pearson is not much good at party politics.
That's not a critic's view of the man who is stepping down as leader of the UK Independence Party after less than a year, but the verdict of Lord Pearson himself.
Unusually for a politician, his resignation statement highlights his own shortcomings.
Not only does Lord Pearson of Rannoch say he is poor at his job, he adds that he does not enjoy party politics, and believes UKIP deserves a better politician than him at its helm.
Those sentiments will not come as a surprise to those who followed his fortunes during the general election campaign.
Then, the UKIP leader rarely looked like a man having much fun.
Asked about his party's policy on regulating banks during a BBC interview, he said he had not come on the programme to "deal with the minutiae".
Asked whether he had read his own manifesto, he confessed: "I haven't remembered it all in detail."
Journalists were not the only people who made the former Conservative peer's election an uncomfortable experience.
He faced angry internal opposition to his policy of supporting Eurosceptic candidates from rival parties at the Westminster elections.
It is little surprise that at times the strain appeared to show.
But leading UKIP is no easy job. The pattern in recent years has seen it getting by between European contests with little success to show for its efforts, then seeing a clutch of its members elected to the European Parliament.
It faces all the organisational and financial trials of a small party, with some of the responsibilities and profile of a much larger political organisation.
In 2009, Lord Pearson's predecessor Nigel Farage was one of 13 UKIP politicians who became MEPs, as the party came second in the popular vote. That was after many forecast a collapse in its support.
It is Nigel Farage's future that will interest UKIP watchers now.
He stepped aside as leader to allow himself more time to fight the Speaker of the House of Commons John Bercow for his Buckingham seat at the general election.
Mr Farage failed in that contest, and was badly hurt in a plane crash on polling day.
Asked whether he would seek re-election as leader, he said he would have to decide whether he had the strength to do the job.
Mr Farage supported Lord Pearson during the last leadership contest, saying the peer was the only serious and credible candidate for the job.
But should Mr Farage stand other candidates will challenge him.
One of the party's two deputy leaders - David Campbell Bannerman - has indicated he would like to replace Lord Pearson. His fellow deputy Christopher Monckton may also stand, and any of UKIP's MEPs could stake a claim.
All of which means the annual conference in Torquay in September is unlikely to be an easy experience for UKIP, as it searches for someone who does consider themselves good at party politics.
Related Internet Links
The BBC is not responsible for the content of external sites.