David Cameron tops Twitter political trends list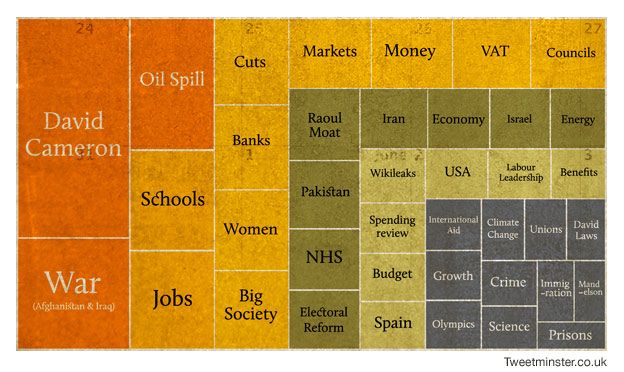 David Cameron has been the most discussed political subject among UK Twitter users during the coalition's first 100 days, a study suggests.
Tweetminster, which follows trends on the social networking site, found there had been 11,470 tweets mentioning the Conservative prime minister.
This was almost twice as many as the next most popular subject - war in Iraq and Afghanistan.
The political fallout from the BP oil spill in the US was third.
Following this, the most frequently discussed political subjects were "schools", "jobs", "cuts" and "banks".
Mr Cameron's "big society" project was mentioned in 2,716 tweets, putting it in 10th place, while the Labour leadership contest came 29th, with 1,441 tweets.
Alberto Nardelli, co-founder of Tweetminster, said: "With this report we wanted to try something different. Over the past few months we've processed a lot of data and our aim was to present this information in a format that provides both a snapshot and insights into the issues that have framed the coalition's first 100 days."
Also appearing on the Tweetminster list was David Laws, the Chief Secretary to the Treasury who resigned in May after admitting claiming expenses to pay rent to his partner. He was in 18th place.
Mr Cameron's deputy, Liberal Democrat leader Nick Clegg, did not make the top 40, although former Business Secretary Lord Mandelson, who recently released his memoirs, sneaked in at 39th.
Mr Nardelli said: "NHS reform, immigration, crime, climate change and electoral reform have had a smaller volume of mentions than one would possibly expect.
"Analysing shared links on Twitter, Tweetminster believes this is due to the fact that media focus on these issues has been concentrated around announcements and news stories and not sustained over time."
Tweetminster also measured "sentiment" - the negativity or positivity of the language used to describe political terms and figures.
It found that this had remained roughly stable for the Conservative Party since the coalition was formed, but had improved somewhat for Mr Cameron.
However, overall sentiment towards the Lib Dems had become more negative over the same period and declined even more markedly when it came to Mr Clegg.
The most-mentioned government department or body on Twitter was 10 Downing Street, followed by the Foreign Office, the Treasury, UK Trade and Industry and the communications watchdog Ofcom.
For its study, Tweetminster analysed more than five million tweets it deemed relevant to the coalition's first 100 days.
Related Internet Links
The BBC is not responsible for the content of external sites.