Simon Hughes calls for Lib Dem coalition veto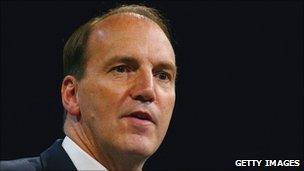 Liberal Democrat MPs should have a veto on policies put forward by the coalition government, the party's deputy leader Simon Hughes has said.
They should be able to say to the Conservatives "No, we can't go down this road", he told the BBC.
Mr Hughes also said a future coalition between the Lib Dems and Labour was "still on the agenda".
But Deputy PM Nick Clegg described the current Tory-Lib Dem government as a "long-term" arrangement.
The coalition is celebrating 100 days in power, having been formed after no single party gained a parliamentary majority in May's general election.
With the Lib Dem annual conference taking place next month, there are reports that some members are not happy with the government's spending cuts programme and the compromises involved in the coalition agreement.
The party's opinion poll ratings have also fallen in recent weeks.
Mr Hughes told the BBC: "If the coalition wants to deliver [parliamentary] votes, neither party on its own has a majority, so we have to make sure everyone is brought into that.
"As a matter of practical politics... the parliamentary party on behalf of the wider party on big issues has to be able to say 'No, we can't go down this road'."
Mr Hughes, seen as being to the left of the Lib Dem leadership, added that a coalition between Labour and his party was still "on the agenda", possibly as early as the next general election, which is expected in 2015.
However, he argued that such an alliance could not have worked following the last election because Labour had "lost its radical edge" during 13 years in power.
Mr Hughes was elected Lib Dem deputy leader in June, promising to "fight every day for the principles which underpin our party".
At the weekend, he confirmed his party would put up candidates against the Conservatives at the next general election, as it still offered "distinctive policies".
Mr Clegg, the Lib Dem leader, told BBC Radio 4's Today programme that voters appreciated politicians who "get together to overcome their differences in the national interest".
He added: "I really think that the distinguishing feature of this government is that it's a government for the long term, with five years to sort out things for the benefit of this country."
Former Conservative cabinet minister John Redwood wrote on his blog: "If all Lib Dem backbenchers vote against a coalition government proposal, even with Labour support, the government will still win the vote...
"It is only if more than 40 Conservatives vote against the government and Labour opportunistically agrees that the government might lose. Democratic politics is about numbers as well as arguments."
Former Justice Secretary Jack Straw has revealed in a BBC interview that he was "relieved" when Labour and the Lib Dems failed to reach a coalition deal after the election, arguing it would have been "inherently unsatisfactory".
Even if their seats were added together, the two parties could not have commanded a Commons majority.
Mr Straw said that forming a coalition in such circumstances would have resulted in "scrubbing around for votes each time there was a critical division and that would have made for a hand-to-mouth existence".
Meanwhile, the Trades Union Congress, which represents 6.5 million workers, has marked the coalition's 100 days in office by calling on the government to reconsider its planned cuts to public services and focus instead on other ways to reduce the deficit.
General secretary Brendan Barber said the government's strategy was "slamming on the economic brakes" and meant there was a "growing risk of a double-dip recession".
Related Internet Links
The BBC is not responsible for the content of external sites.