The first 100 days - in a parallel universe
By Laura Kuenssberg
Chief political correspondent, BBC News channel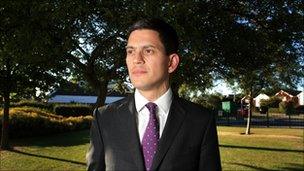 In the chaotic days after the general election there was nothing certain about the Conservatives and the Liberal Democrats being able to do a deal, and form the administration that is now marking its 100th day in office.
We now know in almost gruesome detail the machinations that went on behind closed doors during that time.
We know of the drafting, and redrafting of David Cameron's speech that led to his "open and comprehensive" offer to Nick Clegg's party - and the days of negotiations between the two parties that followed.
We even know that the moment when a deal was struck was captured on a child's toy camera by Mr Cameron's daughter Nancy.
But with Labour also harbouring very real hopes of forming a deal of its own with the Liberal Democrats, other outcomes were possible.
And in all three political parties there were very live arguments about the route to take. So let us assume, for a moment, Mr Cameron had not managed to find common ground with Mr Clegg and form Britain's first coalition government in 70 years.
What sort of administration would now be celebrating its first 100 days in power? What - in a parallel universe - might have happened in those frantic hours and days after the polls closed?
Lib Dem deputy leader Simon Hughes was one of the many MPs who would have instinctively worked more easily with Labour.
And since the coalition was formed he has made it increasingly plain that Lib Dem MPs will not just do what they are told, calling for them to have a veto on policy put forward by coalition ministers.
He told me: "If the coalition wants to deliver votes, neither party on its own has a majority, so we have to make sure everyone is brought into that.
"As matter of practical politics, the Parliamentary party, on behalf of the wider party, on big issues has to be able to say 'no we can't go down this road'."
Indeed he told me that a coalition between the Labour and the Liberal Democrats was still "on the agenda", possibly as early as the next general election.
And despite his long term desire for a centre-left alliance, shared by two of the party's former leaders, Sir Menzies Campbell and Lord Ashdown, he believes a Labour/Lib Dem alliance could not have worked this time around because "Labour has lost its radical edge".
Paradoxically, he suggests that a coalition between the two parties to the left of the Tories would have been more "conservative" than the administration that David Cameron and Nick Clegg have put together.
While some senior Labour figures like Lord Mandelson and Lord Adonis did try to get a deal off the ground with the Lib Dems, Jack Straw one of the party's old hands, has revealed in full for the first time how sceptical he was about the idea.
In that parallel universe, he said the parties could have "spatchcocked together whatever coalition we could, but it would have been profoundly difficult".
He even says he was "relieved" when the Conservatives and the Lib Dems managed to form a government saying a centre left deal would have been hard to agree because of "an inherent suspicion of the Lib Dems inside the party which is very deep seated and has its roots in the split of the SDP-Liberal Alliance in the 1980s".
And because the Lib Dems and Labour together would not have had enough MPs to command a majority, leaving them reliant on the support of nationalist and other smaller parties, to get their flagship legislation through Parliamentary, they "would have been scrubbing around for votes each time there was a critical division and that would have made for a hand to mouth existence".
So hardly a tempting option, argues Mr Straw, but as to the critical issue of who would have become prime minister in that scenario, he suggested that Gordon Brown could have relatively swiftly handed over to David Miliband, the then foreign secretary who was considered the frontrunner to succeed Mr Brown at the time.
David Miliband could have, therefore, become the second Labour politician to move into Number 10 without having led the party to success at a general election.
But what of the other possibilities?
It is well known that some Conservative backbenchers had real reservations about working with the Liberal Democrats.
And during the days of negotiations some, such as Graham Brady, chairman of the influential 1922 committee that represents backbench Conservative MPs, was arguing for the party to go it alone and try minority government.
Former cabinet minister Peter Lilley warned in the House of Commons that a coalition would not satisfy the public.
But sketching out what a Conservative minority government might have been like, he told me it "would have been a disaster".
"It's hard to believe in those circumstances a minority Conservative government could have announced the budget that we have had without it being subject to to enormous vilification."
He told me the budget would have led to "demonstrations across the board, attempts to reverse it".
And Mr Lilley suggests a Conservative minority government would have been forced to call an election quickly: "It is hard to see that such a government could have lasted long or achieved very much."
But he argues against any suggestion that coalitions could or should become the norm in British politics, saying: "If we had the likelihood or virtual certainty of coalitions in future, the danger would arise that parties would be able to promise the earth knowing they could use the excuse of coalition negotiations to explain to their supporters and voters why they hadn't actually moved ahead with trying to implement some of their rosy promises."
Hindsight of course is a powerful force - it is perhaps not much of a surprise that politicians of the parties now inside the coalition government argue that it was a better outcome than the other possibilities that were on offer.
But while the leaders of the Conservatives and the Liberal Democrats and their ministers are on a political journey to govern successfully, others inside their parties, are on a parallel trip fighting to preserve their own political identities.
Related Internet Links
The BBC is not responsible for the content of external sites.