Ed Miliband 'won't work in coalition with Clegg'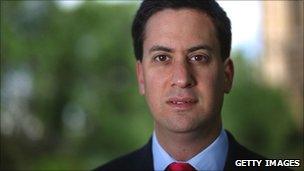 Labour leadership contender Ed Miliband has said he would demand the resignation of Nick Clegg before forming a coalition with the Lib Dems.
Mr Miliband told the New Statesman that the deputy prime minister's support for the government's spending cuts would make it "pretty hard" to work with him.
The comments come after Lib Dem deputy leader Simon Hughes said a coalition with Labour was "still on the agenda".
Mr Miliband is one of five candidates to become Labour leader.
He told the New Statesman the party should not focus its efforts on appealing to Tory-supporting newspapers in an effort to attract voters.
Mr Miliband, the shadow energy secretary, said: "We have got to get out of a paradigm, defined by the right-wing press, which says that if you talk about Labour values and talk about what you believe, then somehow we are not going to win."
But he added: "You want as many people supporting you as possible."
Mr Miliband, whose campaign has concentrated on appealing to the party's grassroots and trade unionists, said of his apparent lack of support among the shadow cabinet: "Well, I don't have the backing of the New Labour establishment, that's true... I am not their candidate."
He also said: "I think as a party, we do need to draw a line under Iraq. But I think that's hard if you are saying the war was the right thing to do."
Mr Hughes, seen as being to the left of the Lib Dem leadership, told the BBC earlier that a coalition between his party and Labour could be "still on the agenda" following the next general election, which is scheduled for 2015.
But Mr Miliband, asked about what he would do in the event of a hung parliament, said of Mr Clegg: "Given what he is supporting, I think it is pretty hard to go into coalition with him."
Labour leadership rival Ed Balls, the shadow education secretary, was more ambiguous about whether he would work with Mr Clegg when quizzed about it on the BBC News Channel.
He said: "If there's a hung parliament, you have to work with the Liberal Democrats.
"Whether Nick Clegg is today truly a Liberal Democrat, in a way that Liberal Democrats would recognise, I don't know."
Several senior Labour figures, including former Health Secretary Alan Milburn, ex-social security minister Frank Field and former Defence Secretary Lord Hutton have agreed to advise the Tory-Lib Dem coalition on policy - a move which has seen them denounced as "traitors" and "collaborators" by other senior figures, including Lord Prescott.
Voting for the next Labour leader is under way, with the winner being announced on the first day of the party's conference in Manchester on 25 September.
The other candidates are Diane Abbott, Andy Burnham and David Miliband, who remains the favourite at the bookmakers to win the contest, now seen by most pundits as a two-horse race between the Miliband brothers.
In an e-mail to party supporters on Tuesday, Ed Miliband said he was "within touching distance" of winning the race to succeed Gordon Brown.
But the message - aimed at rallying his backers as the campaign enters its "final crucial weeks" - was sent out just minutes before an interview with BBC Radio 4's PM programme in which Mr Miliband said he did not know whether he would win the contest.
He told PM: "I have quite a simple view about this election which is I am going to say what I think and let the chips fall where they may."
Related Internet Links
The BBC is not responsible for the content of external sites.