Ex-Home Secretary Lord Brittan made trade adviser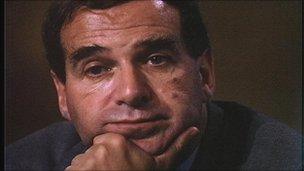 Prime Minister David Cameron has appointed former Tory Home Secretary Leon Brittan as a trade adviser.
He said the peer, who was also trade secretary under Margaret Thatcher and later became an EU commissioner, had "unrivalled experience".
Lord Brittan will start the the £500-a-day full-time job next month and remain in place for six months.
He said he would work towards "removing trade barriers and stimulating investment".
After the job ends, Lord Brittan will return to his usual role as vice-chairman of investment bank UBS.
In a statement, the prime minister said: "I am delighted that Lord Brittan will bring his unrivalled experience and know-how to what is one of the most important issues we face - to drive forward our ambitious trade agenda.
"As we come out of recession it is crucial that we demonstrate that the British economy is open for trade, open for investment and open for business.
"Crucial not just for our economic growth and the jobs it will create but also to help some of the poorest countries in the world develop too."
Lord Brittan resigned from the government in 1986 over the Westland helicopters affair, in which he was found to have leaked a letter critical of Cabinet colleague Michael Heseltine.
He was appointed a European commissioner in 1989, eventually becoming vice-president of the Commission.
On his latest appointment, Lord Brittan said: "Removing trade barriers and stimulating investment is crucial for our national prosperity.
"To help work out how this can best be achieved, both nationally and internationally, is an immensely exciting challenge, I am honoured and delighted to be asked to take this on."
For Labour, shadow business secretary Pat McFadden said it was a "major embarrassment" for the coalition that, three months after its formation, "no proper trade minister" had been appointed.
This must happen "as soon as possible", he added.
Business Secretary Vince Cable said Lord Brittan would "provide valuable insight as we develop an overarching trade and investment strategy across government".
In the last week, the government has appointed former Labour minister Alan Milburn as an adviser on social mobility and asked retail magnate Sir Philip Green to lead a review of Whitehall spending.