Nick Clegg: Lib Dems not damaged by Tory coalition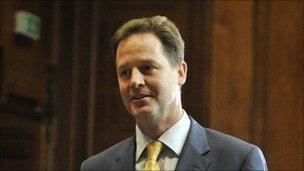 The Liberal Democrats are not being damaged by their coalition with the Conservatives, deputy prime minister Nick Clegg has insisted.
The Lib Dem leader said nobody would be taking "any notice" of his party if it was not in government.
He also told BBC Radio 4's Westminster Hour he would not quit the coalition if electoral reform was blocked.
Lib Dem opinion poll ratings have plummeted from 27% at the general election, to about 14%.
This has caused concern among the party's MPs and members, who fear their voters have deserted them for Labour over Mr Clegg's decision to form a coalition with the Conservatives.
Labour has seen a surge in support since the general election, despite being in the middle of a leadership contest.
But senior Lib Dem figures, including Mr Clegg, have argued that the party has been in worse shape at the polls and bounced back.
In an interview with the Westminster Hour, to be aired on Sunday evening, he conceded that his party was likely to suffer in the local elections next May, saying: "I think it is one of the oldest rules in politics that parties in government... tend to get a dip in their popularity."
"Do I think we are going to be able to defy those rules of gravity at a time we are taking very difficult decisions on deficit reduction?" Mr Clegg added.
"No. I think that is unlikely."
Mr Clegg, who is currently standing in for Prime Minister David Cameron - who is on holiday - confirmed there was no question of a "non-aggression" pact with the Conservatives at the next general election.
"We will fight this as an independent party - we already are," he insisted. "We are fighting local elections against the Conservatives now."
Mr Clegg also played down fears among some in his party, including deputy leader Simon Hughes, that it was in danger of losing its identity.
Being in government meant the Lib Dems were able to make progress with a "liberal agenda", he argued.
"If we weren't in a coalition now I don't think people would take any notice of the Liberal Democrats," he added.
"If we were in a coalition with Labour, arguably our identity crisis would be even worse."
Mr Clegg said that despite his apparent closeness to Mr Cameron they were "tough with each other" behind closed doors.
And he defended plans to hold a referendum on moving to the Alternative Vote system on the same date as the elections next May, amid a possible backbench Tory rebellion on the issue.
He told the programme he would try to "persuade" critics that it would be cheaper and would not cause confusion.
But he also indicated that changing the voting system to AV would not be a make-or-break issue for the coalition.
"If [the electorate] say no, they have said no," he said.
"It's an opportunity, finally - heaven knows we have been talking about this long enough."
He said the Liberal Democrats "aren't a sort of glorified form of the Electoral Reform Society" and that, personally, he cared about other issues such as social mobility "probably even more than electoral reform".
Mr Clegg also laid into Labour for the "collective bile and vitriol" the party was displaying against the Lib Dems.
"They clearly thought that the only thing the Lib Dems were ever entitled to do was fall into line with the Labour Party," the Deputy PM said.
"They seem to be deeply offended that the Lib Dems may only have made up their minds to do something different."
That demonstrated Labour's "astonishing arrogance", Mr Clegg insisted.
It comes as Labour leadership contender Ed Miliband accused Mr Clegg of abandoning his pre-election commitment to tackling tax avoidance.
He was responding to a report in the Financial Times, which claimed HM Revenue & Customs is to "soften" its stance on avoidance to save money on legal action.
In a letter to the Lib Dem leader, Mr Miliband said: "It is no surprise that people, even within your own party, feel that you have betrayed those who voted for you just a few months ago.
"Will you explain to the country why you no longer feel it necessary to tackle tax avoidance? And will you publish a detailed timetable showing the timescales on which you expect to make progress?"
On Wednesday, Mr Miliband became the first Labour leadership contender to say he would not enter into a coalition with the Lib Dems after the next election, if Mr Clegg remained leader.
Related Internet Links
The BBC is not responsible for the content of external sites.