Lib Dems: Charles Kennedy is 'not defecting' to Labour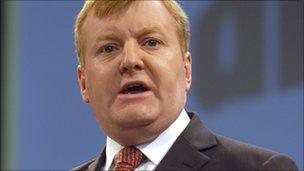 Liberal Democrat leader Nick Clegg has denied reports that the party's former leader Charles Kennedy has had talks with the Labour Party about defecting.
Several newspapers carried stories on Saturday that Mr Kennedy had held informal talks with Labour whips.
The Lib Dems called the reports "complete and utter fabrication".
Deputy prime minister Mr Clegg said: "I don't think I can do better than quote Charles, who said it's the silliest of the silly season stories in August."
He said he had had an e-mail from Mr Kennedy, and continued: "It's just nonsense, and I think we shouldn't waste too much time talking about things which simply aren't true."
Mr Kennedy was not available for comment.
Earlier this year, Mr Kennedy explained in a newspaper article why he felt "unable to vote" in favour of the coalition with the Conservatives when it was presented to Lib Dem MPs.
He wrote that he had been "keen to explore the possibilities" of creating a "progressive coalition" with Labour, adding: "It remains a matter of profound disappointment that there was insufficient reciprocal will within the Labour party."
One of the Labour leadership contenders, Ed Miliband, said Mr Kennedy might not be considering defecting but there was dismay among the Lib Dem grassroots.
"I certainly haven't had any conversations with Charles Kennedy about him defecting to Labour," Mr Miliband said.
"I do think there are lots and lots of very unhappy Liberal Democrats though, not just Members of Parliament but others, who think well, actually, we came into politics for a fairer, a more just and more equal society and we've got a coalition delivering the absolute opposite."
Since the general election, some opinion polls have indicated support for the Lib Dems has dropped.
This has caused concern among some of the party's MPs and members, who fear their voters are unhappy with the decision to form a coalition with the Conservatives.
Mr Clegg defended his party at a public question and answer session in Bristol.
Lawyer Shazada Hayat, from Bristol, told Mr Clegg: "You and David Cameron, I would like to say, are not ideal partners in this arranged marriage, because your policies are different, his policies are different. You don't agree.
"This honeymoon period has not gone down well. How long is this marriage going to last? Only you know. But what I would like to ask is, is this marriage going to end amicably, or is it going to be like Cheryl Cole, you will be screaming that 'I've been betrayed, betrayed, betrayed'."
Mr Clegg said: "The coalition government is formed of two different parties with different viewpoints.
"But together you can do good things in a coalition. Give us a chance."
He went on to say people were looking for "cracks and divisions and tensions where they don't necessarily exist".
"Are there people who are concerned about how the coalition is operating in the Conservative Party?
"Yes I should think so - and there are in the Lib Dem Party as well, that's normal," he said.
"We're doing something very different and new but I think people in the Lib Dems know that we have entered this coalition for a five-year period and that the time to judge if it's been a success or not is not in the heat and fury of daily headlines after 100 days, it's after five years.
"We're governing for the long term, for the long-term benefit of the country as a whole," he added.