Charles Kennedy calls Labour rumours 'absolute rubbish'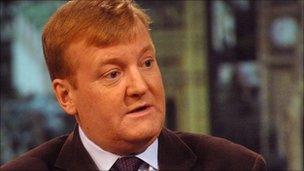 Former Liberal Democrat leader Charles Kennedy says the idea of him joining the Labour Party is "absolute rubbish".
He told the Sunday Mail he would "go out of this world feet first with my Lib Dem membership card in my pocket".
Several newspapers carried stories on Saturday that Mr Kennedy had held informal talks with Labour whips.
The current Lib Dem leader, Nick Clegg, had also denied reports that Mr Kennedy spoke to the Labour Party about defecting.
Mr Kennedy added: "I am not joining the Labour Party and have not had any discussions about it with anyone from the Labour Party."
Earlier this year, Mr Kennedy explained in a Guardian newspaper article why he felt "unable to vote" in favour of the coalition with the Conservatives when it was presented to Lib Dem MPs.
He wrote that he had been "keen to explore the possibilities" of creating a "progressive coalition" with Labour, adding: "It remains a matter of profound disappointment that there was insufficient reciprocal will within the Labour party."
The Lib Dems had previously called the reports "complete and utter fabrication".
Deputy prime minister Mr Clegg said: "I don't think I can do better than quote Charles, who said it's the silliest of the silly season stories in August."
One of the Labour leadership contenders, Ed Miliband, said Mr Kennedy might not be considering defecting but there was dismay among the Lib Dem grassroots.
"I certainly haven't had any conversations with Charles Kennedy about him defecting to Labour," Mr Miliband said.
"I do think there are lots and lots of very unhappy Liberal Democrats, though, not just members of parliament but others who think well, actually, we came into politics for a fairer, a more just and more equal society and we've got a coalition delivering the absolute opposite."
Since the general election, some opinion polls have indicated that support for the Lib Dems has dropped.
This has caused concern among some of the party's MPs and members, who fear their voters are unhappy with the decision to form a coalition with the Conservatives.
Labour leadership contender Ed Miliband told Sky News: "I know that there is widespread unhappiness among Liberal Democrat MPs."
"I am not going to start predicting who is going to defect and when they might do so, but I think there is a real chance for us to show that this coalition is going in the wrong direction as far as Lib Dem MPs are concerned - and as I say, the welcome mat is out."
Related Internet Links
The BBC is not responsible for the content of external sites.