Campbell warns over funding for human rights report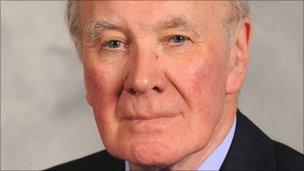 Sir Menzies Campbell has joined the row over Foreign Office plans to cut spending on its annual report into worldwide human rights abuses.
The former Liberal Democrats leader said it could damage the UK's reputation by suggesting it was less committed to the cause of human rights.
Foreign Secretary William Hague has denied that the government would be "abandoning the less fortunate".
Labour's David Miliband said £560,000 may go from the report's annual funds.
Speaking on Sunday, Mr Miliband, who is standing for the leadership of the Labour Party, said the coalition risked taking a "serious step back" from standing up for human rights.
The Foreign Office Annual Report on Human Rights, first produced in 1997, highlights incidents of torture and oppression around the world.
It monitors the use of the death penalty and the illegal arms trade, and is available as a guide for UK businesses to see which countries it is ethical to trade with.
A Foreign Office spokesman said: "In the current financial climate... we need to look carefully at how best to communicate and ensure transparency with parliament and the public on our human rights activity."
He added that the department was looking at alternatives to "the expensive glossy colour publications of the past", with one option said to be publishing the report online.
Sir Menzies told BBC Radio 4's Today programme that while he would back cost-cutting moves such as making it cheaper to print the report, there should be no savings on how it was actually collated.
"The report has become very important, not least of course because it indicates exactly what the Foreign Office has found out about abuses of human rights, and what action should be taken," he said.
"It is very important that a symbol of this kind is not damaged in a way which suggests we are in any way less committed to the cause of human rights."
Sir Menzies added that he was in "no doubt" that MPs from all parties would oppose any changes that reduced the report's effectiveness.
Related Internet Links
The BBC is not responsible for the content of external sites.