Government concern over councils' parking charges plan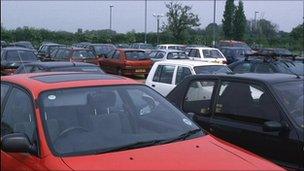 Charging motorists hundreds of pounds a year to park at work was not what the government meant when it told councils to find new income, sources insist.
A "handful" of councils in England are looking at introducing workplace parking levies, according to the Local Government Association (LGA).
The LGA said it was under pressure to find new sources of income.
But a spokesman for Communities Secretary Eric Pickles said they should look at other kinds of charges instead.
It follows a report in the Daily Telegraph, which claimed cash-strapped councils were turning to a scheme originally conceived to cut congestion and help the environment as a way of raising revenue.
The newspaper claimed this meant the government had abandoned its commitment to end the "war on the motorist".
Sources with the Department of Communities and Local Government said Mr Pickles had been referring to other kinds of discretionary charges when he told councils to find new revenue streams.
These included charging other local authorities for building and cleaning services, charging insurers for annual tree inspections or providing MOT services for motorists.
Nottingham is so far the only local authority to announce plans to introduce workplace parking levies.
Under the scheme employers with more than 10 spaces will be charged £253 a year from 2012, with the bill set to rise to £350 within two years.
The money raised will fund part of the city's tram extension, refurbishment of its railway station and bus network - but it has come under fire from local employers and motorists.
According to the Telegraph, a number of local authorities are considering following Nottingham's lead - including Bristol, York, Devon, Leeds, Bournemouth and Wiltshire.
South Somerset council was also named by the newspaper as among those considering introducing such a scheme, but it insisted to the BBC that this was not the case.
"Whilst the idea is one of dozens, if not hundreds of possibilities floated as ways of encouraging greener travel, it is not an idea currently actively being pursued," a spokesman said.
Hampshire County Council also denied the paper's claim it was considering a "modest" version of the scheme.
Executive member for environment, Councillor Mel Kendal, said: "I would like to make it clear that the county council has no plans to implement these charges."
But Bristol City Council confirmed it was in the early stages of "exploring the potential for a workplace parking levy".
Gary Hopkins, cabinet member for strategic transport, waste and targeted improvement, said: "The potential benefits for transport from the money raised could mean lower bus fares, or even free bus fares in the city centre, discounted season tickets, and help attract other bus companies into the city bringing more competition.
"It could help pay for investment in smart cards, integrated ticketing, real-time bus information and local car clubs that can provide flexibility for those who need to use the car some of the time but want to keep costs down."
He said it could also help business by cutting traffic congestion, but added: "Of course I recognise that for some people getting around the city by car is a necessity so reducing congestion will help them, and not penalise them as a cordon charge would do."
LGA Vice Chairman Councillor David Sparks said councils were having to find new ways of funding services.
"Councils invest millions of pounds every year in improving roads and public transport and play a key role in cutting congestion and reducing harmful emissions.
"Workplace parking levies are one option being considered by a handful of councils at the moment as way of continuing to fund this."
The Department for Transport, which would have to approve any workplace parking schemes, said it had not been approached by any local authorities planning such a move.
A spokesman said: "It is for local authorities to consider what measures are appropriate for improving transport and tackling congestion in their area.
"However, local authorities would need to consult fully on any proposed workplace parking levy scheme and assess the impact on those affected."
Related Internet Links
The BBC is not responsible for the content of external sites.