MPs 'abused staff over expenses changes'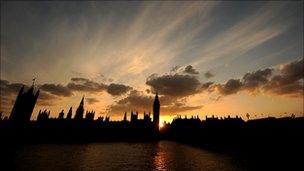 Several MPs have verbally abused expenses watchdog staff, with one calling the new system an "abortion", official documents suggest.
An MP made one worker cry, later giving chocolates to apologise, it is alleged.
Denis MacShane said he was the MP involved but called that account of the incident "partial and one-sided"
The Independent Parliamentary Standards Authority, set up after the expenses scandal, published the revelations after a Freedom of Information request.
The revised expenses system has come in for severe criticism, with many politicians claiming it is too bureaucratic and time-consuming.
There have also been reports of MPs abusing authority (IPSA) staff as they attempt to come to grips with its intricacies.
The document, outlining the details of complaints made by workers, contains several instances of swearing and intimidation.
The male MP who allegedly called the new system an "abortion" went on to describe Sir Ian Kennedy, IPSA's chairman, as "stupid".
Another, who was told he had to take part in an induction session to learn the workings of the system, is reported to have "struck a laptop on the facilitator's desk and loomed over the facilitator in an intimidating manner".
In another recorded incident, trainers and all IPSA staff were referred to as "monkey" by one female MP.
One MP is said to have grabbed a trainer's name badge, while another reportedly declared: "I am going to murder someone today."
A staff member recalls a meeting in which an MP was "very difficult and disruptive" and after 10 minutes a volunteer "burst into tears and a staff member attempted to intervene".
They add: "When a staff member offered to help, the MP dismissed him as 'condescending', at which point another staff member pulled the volunteer (still in tears) out of the session. At this point the MP immediately became contrite and apologised... He later returned with a box of chocolates and a note addressed to the volunteer."
Labour's Denis MacShane told the BBC he was the MP concerned but said the account of the incident was "partial and one-sided".
It occurred immediately after the election, he said, when MPs were "exhausted" and trying to get to grips with a new computer system for making claims which proved impossible to operate.
In what he described as an "awful experience" and "disastrous error", he said IPSA officials had put young female volunteers from government departments "into the front line" to induct MPs about using the system.
"I was getting frustrated, upset and saying, 'Look, I want to be an MP, I don't want to have to grapple with this bureaucracy,'" he told BBC Radio 4's PM.
"I was getting upset with myself... I saw that she just had a grumpy middle-aged MP on her hands. She got upset, there were tears in my eyes and I just stopped it, ran out and got the biggest box of chocolates I could find."
But he stressed. "I did not swear or raise my voice. I do not get cross with young ladies."
Mr MacShane said he was disturbed that IPSA had kept "secret records" of conversations between MPs and their staff and these had been released to the press without members being informed.
"This is quite worrying that IPSA continue this kind of war with MPs when we need to stop it."
IPSA was set up last year to enforce a revised expenses system.
A spokesman said: "These instances relate to the early days of operation. IPSA is focusing on getting on with its job which is managing the new regime governing MPs' expenses - that means checking and processing thousands of claims each week.
"Last week alone, for example, IPSA handled 4,000 claims and paid £650,000 to MPs."
Related Internet Links
The BBC is not responsible for the content of external sites.