Are Labour leader rivals Ed and David Miliband at war?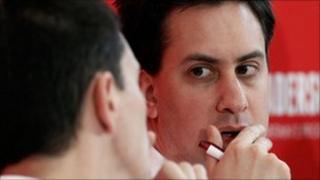 The five candidates for the Labour leadership have attended so many hustings together since the beginning of the contest in May that they have virtually memorised each other's answers, according to some observers of the race.
It seems to capture the atmosphere of a contest that has been criticised for lacking excitement and where the candidates have been accused of being identikit Oxbridge-educated political lifers.
But now it has turned into a drama of sibling rivalry as it enters its final weeks. The race now seems like a run-off between the two Miliband brothers and it feels increasingly bad-tempered.
Shadow Foreign Secretary David Miliband leads in terms of nominations from MPs and constituency Labour parties.
His younger brother Ed - the shadow climate change secretary - has the support of fewer MPs but has received more endorsements from trade unions, including the "super-union" Unite.
The brothers have been disagreeing publicly about which part of the electorate should be the party's main target in future.
Coded attack
The elder Miliband - a former policy advisor to Tony Blair - wants to rebuild the Big Tent of the New Labour years by appealing to voters across social classes.
He writes in the Times: "Simple opposition takes us back to our comfort zone as a party of protest, big in heart but essentially naïve, well meaning but behind the times."
David Miliband has denied it is a coded attack on his brother.
But the younger Miliband then issued a fraternal warning in a statement, saying: "All of us as leadership candidates must take special care to continue our debate in the spirit we started out."
He has staked his campaign on a pledge to bring in a so-called living wage of £7.60 per hour and a High Pay Commission.
Ed Miliband later told me in an interview that the party would never win an election if it retreated to its New Labour "comfort zone", which sounds like a coded attack going in the other direction.
Then there is the deficit.
Five-horse race
David Miliband is sticking to the previous government's pledge to halve the hole in the public finances in four years but thinks that cuts of £40bn by 2014 are not the correct way to do it.
In contrast, Ed Miliband says that halving the deficit is simply "the right starting point". He says the target should be revised as economic circumstances change.
The other candidates hope it is still a five-horse race.
Aides to shadow schools secretary Ed Balls say he is planning a keynote speech which will spell out his strategy to create jobs and boost growth.
Shadow health secretary Andy Burnham is putting the finishing touches to his proposals for tax rises to reduce the need for deep cuts to public spending.
And backbencher Diane Abbot claims that the middle classes are unlikely ever to be forgotten because they already dominate Westminster politics.
Ballot papers for the leadership election will soon arrive through the letterboxes of Labour MPs, union members and party faithful.
The party's system of allowing voters to rank candidates in order of preference makes it very difficult to predict the outcome, which will be announced at the party conference on 25 September.