Jon Cruddas backs David Miliband for Labour leader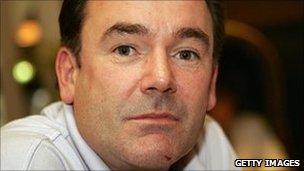 David Miliband has won the backing of influential centre-left MP Jon Cruddas in the Labour leadership contest.
Mr Cruddas told New Statesman magazine he disagreed with the shadow foreign secretary on many policies, but said he was asking "profound questions".
Mr Miliband has insisted relations with his brother and rival candidate Ed will not be damaged by the contest amid suggestions of tension between the two.
Voting in the contest, in which five MPs are standing, starts next week.
Mr Miliband's rivals are his brother Ed, the shadow energy secretary, backbench MP Diane Abbott, shadow education secretary Ed Balls and shadow health secretary Andy Burnham.
David Miliband, a former policy adviser to Tony Blair, is seen by many as the most Blairite candidate in the race. In the past, Mr Cruddas has been highly critical of the former prime minister.
But the Dagenham MP, who ran for the party's deputy leadership in 2007, told New Statesman: "David is not just going down a checklist of policies; he seems to me to be echoing a more fundamental sentiment, in terms of what Labour needs to do.
"I disagree with him on a lot of policy but I think, in terms of the nature of the leadership that's needed, he's beginning to touch on some of those more profound questions that need to be addressed head-on."
He echoed Mr Miliband's view that it was a "mistake" to concentrate on attacking the Liberal Democrats.
Mr Cruddas said: "There's a danger of us spraying too much lead across the forecourt and not really thinking about how we need to regroup.
"We need to have respect for, and show courtesy towards, different traditions as part of an overall, plural realignment across the centre and the left."
The Miliband brothers, regarded as the frontrunners in the contest, have been forced to deny they are at loggerheads as the campaign enters its final stages.
Despite David warning against Labour retreating into a left-wing "comfort zone" and Ed urging the party not to ignore its working-class support - widely interpreted as attacks on each other's campaign strategies - the two maintain their arguments are about the future of the party and not personal.
Speaking on Thursday, David Miliband said the two were determined that politics should never "get in the way" of family relations.
"There is absolutely no truth in any suggestion that family relationships or political relationships have been damaged by this election campaign," he said during a campaign visit in Scotland.
"Family is more important than politics."
Ballot papers go out to Labour members, trades unionists and members of socialist societies next week, with the result being announced on the first day of Labour's annual conference in Manchester.
Related Internet Links
The BBC is not responsible for the content of external sites.