Geoffrey Boycott's my hero, says Labour's Ed Miliband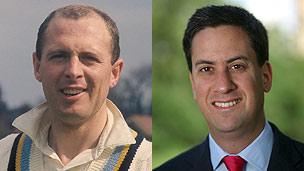 Labour leadership contender Ed Miliband has revealed his hero is the outspoken former Yorkshire and England cricketer Geoffrey Boycott.
His other choices were motor-mouthed tennis player Jimmy Connors and recently deceased snooker hellraiser Alex "Hurricane" Higgins.
The shadow energy secretary told The Spectator magazine he was attracted by the "charisma of imperfection".
Most of Mr Miliband's rivals have expressed a preference for football.
During his long career as a batsman, Mr Boycott, who scored 8,114 Test match runs for England, frequently came into conflict with authority but was noted for his bravery against fast bowling.
He now works as a commentator on BBC radio's Test Match Special.
Mr Miliband, whose Doncaster North constituency is in South Yorkshire, tells The Spectator he saw Mr Boycott score his hundredth first-class century at Yorkshire's Headingley ground in 1977 and that he skipped school to watch his final innings at Lord's.
Mr Connors, winner of eight Grand Slam tennis tournaments, was called a "brat" by detractors in the early stages of his career.
Meanwhile, Mr Higgins, who died last month, was fined thousands of pounds by snooker's authorities, his misdemeanours including abusive language and ungentlemanly conduct.
Mr Miliband, who grew up in London and Yorkshire, faces four rivals - Diane Abbott, Ed Balls, Andy Burnham and brother David Miliband - in the Labour leadership contest.
Ballot papers will be sent out next week, with the result announced on 25 September, the first day of the annual party conference.
Related Internet Links
The BBC is not responsible for the content of external sites.